4 Questions to Help You Improve Your Interpersonal Communication Skills
4 Questions to Help You Improve Your Interpersonal Communication Skills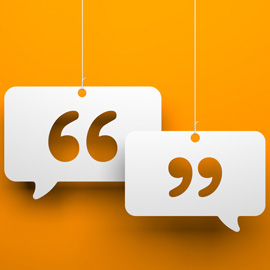 Regardless of your degree program, mastering interpersonal communication skills can be a key ingredient for success both before and after you graduate. Strong interpersonal communication skills can help you get more out of your educational experience while also potentially creating better opportunities for success as you embark upon your career.
Unlike more role-specific skills such as cooking or creating spreadsheets, interpersonal communication is part of most every aspect of your life. You use it in your personal relationships, with your classmates and professors, and with your colleagues. Weak interpersonal communication skills can lead to challenges in your relationships and missed opportunities at school and work. Taking a critical look at your current skills can help you identify areas of strength and areas in need of attention.
As a student, you likely interact with classmates across a range of situations—both social and academic. You also interact with your professors, whether in class chats or one-on-one discussions about assignments and your progress. Later, your ability to communicate can serve you well as you move into the world of work and collaborate with colleagues and supervisors.
Do you need to brush up on this important skill set? Use these questions to evaluate your current abilities, and then consider the strategies below to help you elevate them.
Am I a good listener? When we think about communicating, our focus often goes to speaking and writing. But being a capable listener is a vital element. In "The 7 Habits of Highly Effective People," author Stephen R. Covey notes, "Most people do not listen with the intent to understand; they listen with the intent to reply.1 With this insight, he points out an important distinction: Sometimes, you may find yourself in a situation where you may not need to respond. When you do, your response will be more thoughtful if you truly understand what the other person is communicating. As this article from the Harvard Business Review notes, good listeners are like trampolines: "They are someone you can bounce ideas off of — and rather than absorbing your ideas and energy, they amplify, energize, and clarify your thinking.2
Do I choose my words thoughtfully? Focusing on listening helps create a strong foundation for a fruitful conversation, regardless of topic. When it's time to respond, choose your words carefully, making sure your tone is appropriate for the situation. An effective communicator uses words to complete tasks and successfully meet goals, and is assertive without being aggressive. It's also vital to keep your contribution aligned with the current conversation, whether it's academic, personal, or professional. It's likely you've been part of a discussion where someone jumps in and takes things in an entirely irrelevant direction, which can be frustrating and unproductive.
Do I have a positive attitude? Whether you're in class, at work, or in a social situation, you want to use your communication skills to help further a goal. You may not think attitude is an element of communication, but it plays a big part in how you and your words are perceived by others. If you feel nervous and uncertain about your ability to clearly express your thoughts and ideas with others, you should recognize that a positive, upbeat attitude will likely resonate more with others than any conversational flubs you may make. But if you're downbeat and negative, you'll be memorable in a way that won't benefit you, and it may affect your future opportunities.
Am I prepared to navigate the unique challenge of online communication? Have you ever inadvertently become involved in an unexpected conflict over an email, text, or social media post? Maybe you misinterpreted the tone of an email, or maybe your words to someone else were misconstrued. While many people appreciate the way technology has decreased our need to talk on the phone, it can be challenging to convey emotions and nuance in writing. In person, facial expressions and tone of voice help create a complete picture of our message, but these are not an option when communicating via text or online. Since many students partake in online courses which require them to interact with classmates and instructors, it pays to keep some basic tips in mind for this special situation.
As with any aspect of your life you seek to improve, practice is necessary. Working on your ability to communicate with other people is relatively easy, because any interaction with another person, face to face or virtual, provides you with an opportunity to build upon your current skills.
Looking for more tips on building professional skills and experience as you prepare for graduation? Find them here on our blog.
---
1. Covey, Stephen R. "The 7 Habits of Highly Effective People." Free Press, 1989.
2. Zenger, J and Folkman, J. "What Great Listeners Actually Do." Retrieved from https://hbr.org/2016/07/what-great-listeners-actually-do (Visited 12/21/16)