What AIU Veteran Alumni Can Teach You About Stress Management
What AIU Veteran Alumni Can Teach You About Stress Management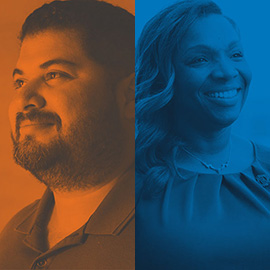 Tacking college on top of everything else in your life – family, work, and other demands – can easily lead to an abundance of stress. Stress affects all of us, and in some profound ways. While a little bit can be helpful for motivating yourself, too much stress can make it more difficult to manage all the responsibilities of life.
What's more, most of us were never taught how to manage stress in a productive way. When you've got a ton on your plate, how do you stay on top of your own spirits and get yourself through large workloads of school, work and other responsibilities?
Military veterans have much to teach us about how to manage stress – they did it in myriad unpredictable situations during their service, and those lessons can be applied to managing school stress, too. We asked AIU alumni and military veterans Lori Wilcox and Ramon Romero (meet them in our AIU Stories series) to share their advice on how they learned to manage stress.
1. Get out of the weeds.
When the going gets tough, many people's intuition is to put their heads down and grind through the work in front of them – regardless of whether it's the right thing to be doing at that moment. But it's critical when you're stressed out to step back and assess the situation. "Stop getting into the weeds," says Romero. "Marines are used to getting into the weeds, but you've got to be able to step back, think strategically and guide yourself through the process."
Once you know where you are in the landscape, you can chart a path forward with priorities and goals.
2. Clarify your goals.
Now that you have a sense of what's in your landscape – and your priorities – you can set goals, which can help you focus that stress on keeping momentum through all the work instead of letting it overwhelm you. Romero set his goals early on: "It was always instilled in me growing up, from my mom, that education was my way out," he says. "I always knew that that was my ticket for moving up in the world." Romero set his ultimate goal and framed his actions toward that purpose.
3. Call on your support network.
Let's face it – it can be difficult to go it alone. When Wilcox struggled in her classes leading up to graduation after some time off dealing with illness, she made sure she got her advisor in her corner, since she still wanted to finish on her original schedule: "I told the advisor that I needed help, like, 'I need you to call me every week,'" says Wilcox. "And he would take the time to call me to make sure I was ready for the week, and so I made it through the week. And we made it to the finish line that August."
When you cultivate and call on that network of people who can support you, even just emotionally, that can go a long way toward reframing the negativity of stress toward something more positive and energizing.
4. Focus on the mission.
What Wilcox learned from her time in the military is that she had a mission – and that always came first. "I had to stay focused on the end result – it was 'mission first,'" says Wilcox.
For students, defining the mission is easy: graduation. Once you've taken a step back to prioritize that mission, set measurable goals for yourself, and called for support, it's time to get down to business on your work. Be forgiving toward yourself since life happens, but don't forget: the only way forward is one step at a time, and don't let anything get in your way.
Get more advice on navigating college life on the AIU blog.