Unbreakable Spirit: AIU Alumnus Anabel Velasquez
Unbreakable Spirit: AIU Alumnus Anabel Velasquez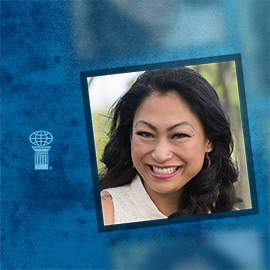 AIU students know that success doesn't come easily. It's built through hard work, dedication and sheer force of will. No one knows this better than AIU alumni Anabel Velasquez.
Anabel is a textbook example of a great American success story. As the mother of four children, her life was anything but simple. Over the course of her degree pursuit, Anabel experienced great personal loss, including the death of loved ones and a failing marriage. This type of strain could have easily broken her spirit, but Anabel's faith and determination to succeed saw her through her hardship. "I am all [my children] have and I have to lead by example," she said. "I will not allow our circumstances to be used as an excuse to not be able to reach the dreams that we have in our hearts. If we really want it, no circumstance can stop us. Our circumstances will not and do not define how far in life we can really go."
Despite the challenges she faced, Anabel was fortunate to have a strong support system in her life. She credits her boss with providing the inspiration and encouragement to pursue her degree.
"When I first started my Associates degree, I was an admin assistant in the healthcare industry," she said. "My boss back then believed in me...even when I didn't believe in myself...but she was the one who guided and encouraged me in going back to school. She knew that my home life was not ideal and that only by going back to school would I be able to have some breathing space and not have to work so much. She helped set the stage for my educational path. I have been so blessed with her mentoring me."
After Anabel completed her Associate of Business Administration degree, she soon moved on to her Bachelor's in Business Administration- Healthcare Management. Not one to say things are just "good enough," Anabel soon returned to pursue her Master's in Business Administration, thanks in part to the encouragement of her co-workers.
"A long time ago, as a little girl, I had these dreams of making my mark on the world," she said. "Somewhere along the way, I seemed to have lost my way, but those three women that had whispered words of encouragement back then helped me with getting back on track. Their words could still be heard in my heart- 'keep on going – do it for you.'"
However, Anabel cites another inspiring source in her life- her children. "In reality, it's really not for me- it is for my children – who continue to be my true inspirations...." Anabel said. "Obtaining my Master's degree had always been a goal of mine, but it always boils down to my children – I think of them constantly."
To add further complications to her life, Anabel managed to complete her degree programs while dealing with the painful fallout of a divorce.
"Although I was married at the start of my educational path, it was on a road that was sinking to nowhere fast, and I knew that I had to do something to ensure my children and I didn't drown alongside with those that were determined to take us with them," she said.
During this difficult time, Anabel turned to her friends and family for support, as well as her AIU advisor.
"I was able to overcome these hurdles that life threw in my way because I had the support of AIU behind me, amongst my family and my friends," she said. "I shared my story with my advisor who became my advocate… AIU was my cheerleader, nudging and cheering me along, leading me in the right direction.
AIU was there when I needed a breather, but with the reassurance that I could continue right where I left off and when I felt it was okay to. AIU gave me the motivation to tackle life. AIU helped me find my purpose and my passion. AIU helped mold me to be me."
Today, Anabel Velasquez works as a Computing Information Systems Analyst for Stanford University, a job she absolutely loves. Along with the practical knowledge she learned at AIU, she also credits the online program itself for preparing her for her current career.
"An online program is much harder than an in-person program and being diligent, engaging in the discussion boards and in group assignments, submitting our individual projects on a timely basis are all abilities that one must develop and polish up in order to be successful," she said. "With all of this 'practice' at AIU and all the while still working, and dealing with life itself, self-management comes as second nature to me in my career."
Even though Anabel's path to her degrees was trying and filled with challenges, she adamantly believes it was worth it.
"Seeing and actually feeling the raised embossed letters on the front, opening it to see my name on that diploma…this is just something I don't have enough words to describe," she said. "Those sleepless nights that turned into mornings and the sincere effort of putting my all into these chapters in my life – I had something tangible to prove that I did it. There is so much meaning to these diplomas than it being just a fancy document to hang on my wall or display in my office. There is an actual story behind each one – not just milestones, but stories and chapters of strong-willed determination to complete what I've started."
When asked what words of advice she could offer to others looking to pursue their degrees, Anabel offers the same enthusiastic encouragement that set her on her own path. "Just go for it! Go for it with all of your heart! Yes, adding schoolwork to an already hectic schedule, life in general, and its crazy demands – I am the poster child with a chaotic and crazy life, but that is just another reason to pursue that grad level degree! Life is going to continuously pass you by – another week, another month…another year….there will always be obstacles in your life – that is why they are called "obstacles" – they are meant for you to go over."