3 Questions to Consider When Researching a Topic
3 Questions to Consider When Researching a Topic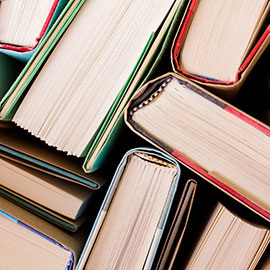 Conducting research for a school paper can be tough; there's so much information available right at your fingertips in today's technology-based world. But how do you sift through everything to find reliable and accurate information?
Consider these 3 questions when researching a certain topic:
1. What does the AIU Library offer for my course or program?
You may be surprised to learn that the AIU Librarians have created specific resources to help each student through their studies! The Library has in-depth research guides and web resources specific to your course, degree program and/or subject.
Research Guides
Research guides are tutorials that walk students step-by-step through specific courses, degree programs or general topics related to research. The guides even provide key word suggestions, collection/database suggestions and website recommendations. You have access to over 100 research guides in the AIU Library!
The guides break down courses unit-by-unit and give detailed instructions for what library collections to use to complete different types of assignments. These guides are available for all the first courses in each program, all the General Education courses and for certain more challenging courses. The Library also has video tutorials. Search the Library to see what research guides they have for you!
Web Resources
AIU's Library Web Resources provide links to content on a variety of topics, and they can be categorized by subject or program. They're easy to browse – you can search them by keyword or course code. Even better, all the resources have already been evaluated by a librarian, so the information is reliable and accurate.
2. What keywords should I be using while researching?
Research starts one way – by searching for relevant information.
When you search the Library or the Web, you want to think of keywords that relate to your assignment. Review the assignment details and highlight words that pertain to the research you need to do. Write them out in a Word document or on a post-it, so you can have them on-hand to reference.
If you're struggling to find good information, try different keyword combinations. If you search the Web via Google and come up empty, search one of AIU's library collections. If one collection doesn't work, search a different library collection or ask a librarian for help; they're here to help you succeed.
3. Are the sources I'm using credible?
Nothing can derail an assignment more quickly than citing sources that aren't credible. So when you start your research, be aware of your sources and know how to spot those that are biased or aren't appropriate for college-level work.
Information on the Web
Anyone can create a website, from governments, schools, organizations and businesses, to regular individuals. You can usually tell what type of organization has created a website by looking at its domain (aka, the three letters that come after the dot). The most widely recognized and used domains are:
.gov for government organizations: www.whitehouse.gov,
.edu for higher education institutions: www.aiuniv.edu,
.org for nonprofit organizations: www.sadd.org, and
.com for commercial business: www.amazon.com.
The domain name can give you an idea if the source is reliable or not. For example, is the web page published on a personal blog, or is it published on an organizational website or the website of a national publication, such as The New York Times? Government websites are the only sites allowed to use .gov, so information from those websites is usually credible as well. When you review your sources, look for credibility by verifying that the author is citing his/her sources, the information is current and it's more objective than biased.
Information in the Library
If you want to bypass the debate of "Is this site credible or not?" simply go to the "Web Resources" section of the AIU Library. The library collections/databases are available at no additional cost to you.
You can find AIU-approved e-books, journals, collections and other resources by clicking on the "Find Articles and eBooks" link in the Library. You can also find websites that have already been evaluated by librarians through the "Web Resources" section.
If you're searching through the library collections, it's good to know that some collections are subject-specific, while others are multi-disciplinary, meaning they have a little bit of everything. We recommend reading the descriptions of the collections to avoid wasting time sifting through collections that don't pertain to your assignment.
Research can require a lot of time and effort. However, no matter your degree program or assignment, we have more school and study tips that can assist you. Read our College Success blog today!