Achieving Your Goals: How Mindset Can Affect Your Results
Achieving Your Goals: How Mindset Can Affect Your Results
Posted March 03, 2021 by Brittany Wagner, AIU Chief Motivational Officer in Online Learning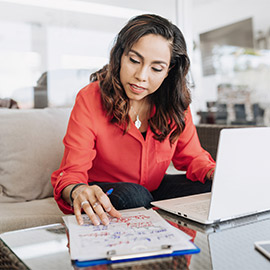 Your mindset can have a direct impact on the world around you – from your perception of the available information to potentially influencing the outcome of an event.
As adults, we play different roles in our lives and each requires different qualities. Some situations require greater patience, and others require less patience and more tenacity and grit. Our external and internal experiences impact the mixture and ratio of qualities we possess, and how they show up in different circumstances or roles.
Identify Self Sabotage
Have you noticed that no matter how much you study, when it comes down to implementing the knowledge, you seem to hit a mental wall? Try to examine your mindset to see if there may be an underlying culprit.

I remember following the story of a professional tennis player and her quest for greatness. Physically, she was at the top of her game and could beat anyone. And she did — until she made it to the final rounds of a major tournament when her ranking and championship money were on the line. Then she would choke. Every single time. She was so frustrated because she knew she was a top-notch athlete physically. Her struggle was entirely mental.

She decided to see a sports psychologist, who asked her, 'What is the quality you deem the most valuable in others?' Her answer: 'Fairness.' In the name of 'fairness,' she often sabotaged her own success. She would be on the court beating an opponent, but then her mind would tell her she wasn't being 'fair' and she would lose the match. Once the psychologist figured this out, he worked with her to create an alter-ego.

b

As a human being, fairness was an admirable quality for her to exhibit. But as a professional tennis player, this quality hindered her competitiveness and ability to win. Her therapist asked her to make a list of the qualities she needed to be the best female tennis player in the world. She then worked on creating a separate persona that embraced and cultivated those qualities.

She developed a physical and mental routine before each tennis match. She recited mantras to herself while looking in the mirror, mantras about how powerful and strong she was. She would slip wristbands over her wrists during this routine with similar words and messages inscribed on them. Every piece of equipment and everything in her space before a tennis match reminded her of her new alter-ego.

The woman who no longer elevated a sense of fairness over winning. She became a different person with a different mindset on the court to excel in her career.
Diverge From Your Default Habits and Behaviors
If your continued behavior isn't getting you the results you want, consider changing up the status quo. We all have places in our lives where we need to diverge from our default habits or behaviors. We may even have a role in our life where we need to create different pathways to succeed. How can this apply to you?
As you continue through your educational journey, consider the following questions:
What qualities do top performers in my desired role possess to perform at the highest level?
Which of these qualities do I have and use proficiently on a daily basis?
Which qualities do I need to acquire or improve upon to succeed?
What 1-3 actions can I take right now to strengthen these qualities in myself?
How will I measure my successes?
Asking for Help is a Sign of Strength
Above all, never feel that asking for help is a weakness. If you have questions, the AIU Community is here to support you along your educational journey. Your Academic Advisor is available to help you balance your priorities, planning schedule changes and more. The Learning Center is also available to students via the AIU Student Portal.
Together, let's make the most of your time at AIU! For additional student success advice and study tips, read more on the AIU blog.
---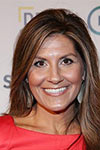 Brittany Wagner is the Chief Motivational Officer at American InterContinental University as well as a nationally-respected athletic academic counselor, life coach and motivational speaker. She garnered world-wide fame in 2016 as a television star on the hit Netflix documentary series "Last Chance U." Prior to filming the documentary, Brittany spent over 15 years working with college athletes at various levels.