Student Profile: Rachel E.
Student Profile: Rachel E.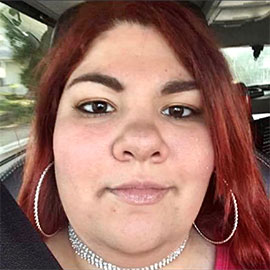 Current student, anticipated graduation January 2023
Bachelor of Healthcare Management
"Right before the Coronavirus hit the U.S., Rachel E. was doing housekeeping for a local hospital. She had just started her Bachelor of Healthcare Management (BHCM) degree program in September 2019, having always been drawn to healthcare since being a patient many times herself. "I enrolled to increase my knowledge, increase my education, and increase my understanding of the concepts of healthcare," Rachel says.
But her decision to pursue her BHCM was solidified after the Coronavirus numbers started increasing exponentially. The nurses and doctors didn't have a lot of time with their patients and no visitors were allowed, so Rachel stepped in. "I hung out with the patients so they could talk through their worries and anxieties. I had time to sit there and listen." That experience was all Rachel needed to know that she chose the right degree program for her.
Now, she is a Behavioral Health Technician at a drug rehab facility in New Jersey called Seabrook House, owned by Summit Behavioral Health.
"My degree has given me something to accomplish and be proud about. It's an accomplishment for my family to be proud about," she says. "It helped me on my journey to wanting to be in healthcare."
At the facility Rachel works at, patients are not allowed to receive any visitors, so Rachel gets to do what she loves – be there for them. "I hold conversations with them, help them with their paperwork, find out their stories, and encourage them that everything will be okay. When they come in, they're either very high or just starting to detox and that can be scary," she says. "I want to show the patients that I actually truly care about them and their wellbeing. Being around my patients is everything." Rachel has been on the patient side of the healthcare industry many times and knows the value of good support. "I have a severe form of asthma called eosinophilic, which causes me go to into very severe asthma attacks." This condition has had her on a ventilator twice, and in and out of the hospital two times a month for three to four years. At one point, she was found coding (code blue) for 30 minutes.
One might assume that all that time in the hospital would slow her down, but it didn't. "I always made sure I had my computer with me to do my assignments. The nurses' reactions to a sick person doing schoolwork was hilarious, but school gave me something to do. I also absolutely loved my classes, so it made it easier to open my laptop and do my work."
Attending school online gave her the flexibility she needed to work on her degree – whether she was in the hospital or not. "Many colleges in my area have a set schedule for classes. At AIU, I do my work on my time. I don't have to leave work early or take time off of work to do assignments. The flexibility is everything."
To those thinking about pursuing their degree, Rachel says, "Do it. You can only achieve what you want to achieve. You have to have it in your heart and in your mindset. It's scary at times to do something new, scary at times wondering if you're good enough, but you can't think like that. You're good enough the way you are. It's just like running a race; the finish line will be there a lot faster than you know it."
Plus, there's the support from AIU to help carry you through. "Everyone is great at doing their jobs – making sure our mental and educational well-beings are where they need to be to help us be successful. I can call my advisor when I'm frustrated – even if it's not school-related – and she'll just listen to me vent," she says. "Your advisors are there if you need help. Don't be afraid of judgment – the advisors don't judge you just 'cause something gets hard. You will break through barriers and finish that race." Outside of being a Behavioral Health Technician, Rachel is also a substitute teacher for elementary and high school students.
Rachel is close to completing her BHCM, and then she plans to jump into AIU's Master of Healthcare Management (MHCM) degree program. She hopes to one day be in nurse management at a hospital's cardiac department. "I want to keep people motivated and keep people positive."