Self-Motivation and Online Studies
Self-Motivation and Online Studies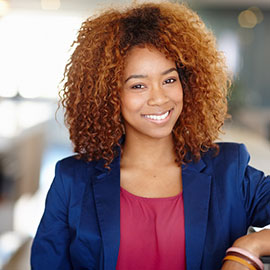 According to the National Center for Education Statistics (NCES), over 3.3 million students attended at least one online class in Fall 2016.1 The freedom to study anytime and anywhere with an Internet connection is a practical option for busy adults. However, to pursue a degree as an online student, it isn't always easy – and you should be able to believe in yourself. In fact, it has been found that students who trust in their abilities are more academically successful than those who don't.2
If you struggle with self-motivation or confidence when it comes to going to school online, try these techniques as you work toward your educational goals:
1. Set objectives.
Did you know that people who vividly describe or picture their goals are 1.2 to 1.4 times more likely to achieve them?3 As you work to fulfill your online degree requirements, record why you want a degree and how you plan to use it. What are your long-term goals? Are you interested in pursuing a graduate program after receiving your bachelor's degree? Even if your plan changes along the way, a record lets you check your progress or reevaluate what you want and how you plan to get it.
2. Talk yourself into it.
During your time spent as an online student, you may think about quitting. Infuse your mind with optimism instead of embracing the negative and thinking about what you can't do or fear. Studies show that self-talk, the internal dialogue or personal commentary used to "recognize, promote, and sustain optimism, hope, and joy," can be effective in pushing away negative thoughts.4, 5
If you make a mistake on an assignment or fail an exam, rebuild your confidence by turning your negative thoughts into positive ones.4 For example, say, "I will learn from my mistakes and continue to grow as a student," instead of "I can't do anything right and will continue to fail." Remind yourself why you are in college completing your degree. You can succeed!
3. Apply time management strategies.
Adult students divide their time among several commitments—work, family, school, etcetera. To make sure you fulfill your obligations, make a schedule and prioritize your tasks. Determine how much time you need to dedicate and complete each one.
A consistent and manageable schedule is less likely to overwhelm you than one that lacks direction and specification. Consider working on time-consuming assignments and projects first so you can break them into smaller tasks. Then, work on the easier ones last. Although one will hold you accountable for completing your work on time, structuring your day and maintaining a routine can help to combat procrastination and increase your productivity.6
4. Reach out to your instructors.
Build relationships with your teachers early so you'll feel less uneasy when or if you ask for help. Your teachers want you to succeed and are available to support and encourage you when problems arise. Contact your instructors during their office hours, send emails, and use discussion boards to ask questions, gain information, and address your concerns. Remember, you are not alone on this journey!
5. Connect with your peers.
Studying away from a traditional brick-and-mortar institution may leave you feeling isolated. However, your class discussion boards, emails, discussion board threads, and Facebook groups are all places where you can go to talk to your peers, discuss the challenges you face, gain new perspectives, and show your support to others.
Chances are, your classmates are experiencing similar circumstances. Talk to them and get to know them. If life throws you a curve ball, one of your peers might inspire you on to keep pushing forward despite the challenges you face.
6. Remind yourself why.
You have a purpose and you're pursuing your degree for a reason. Don't forget this! During challenging times, remind yourself why you are fighting through the obstacles to complete your degree program. You started this journey to pursue one or several goals, and you are the only one in charge of your education.
7. Celebrate your progress.
Progress is motivational. Any amount of growth, great and small, is an achievement. Each quarter, record your progress and reward yourself as you reach your goals. For example, keep a journal or spreadsheet and record each time you overcome an obstacle or finish a challenging class assignment. Then, offer yourself an incentive for each one. A reward is a great motivator and it might be the encouragement you need to keep pushing forward the next time you face challenges.7
Fitting school into your busy schedule can be challenging, but increasing your desire to achieve may lighten the barriers. Find what works best for you and go with it. Although your educational journey may not always be easy, each step you take has the potential to move you forward toward your goals. Don't give up!
---
1. "Number and percentage of students enrolled in degree-granting postsecondary institutions, by distance education participation, location of student, level of enrollment, and control and level of institution: Fall 2015 and fall 2016." National Center for Education Statistics. Retrieved from: https://nces.ed.gov/programs/digest/d17/tables/dt17_311.15.asp?current=yes (Visited 03/27/2019).
2. "Albert Bandura to receive National Medal of Science: Psychologist pioneered the study of social learning and self-efficacy." American Psychological Association. Retrieved from: https://www.apa.org/science/about/psa/2016/01/albert-bandura (Visited 03/27/2019).
3. "Neuroscience Explains Why You Need To Write Down Your Goals If You Actually Want To Achieve Them." Forbes. Retrieved from: https://www.forbes.com/sites/markmurphy/2018/04/15/neuroscience-explains-why-you-need-to-write-down-your-goals-if-you-actually-want-to-achieve-them/#552b8b7c7905 (Visited 03/27/2019).
4. "The Power of Positive Self-Talk: Working to overwrite the negative voice with positive truths." Psychology Today. Retrieved from: https://www.psychologytoday.com/us/blog/hope-relationships/201605/the-power-positive-self-talk (Visited 03/27/2019).
5. "To Affirm or Not Affirm? Self-Affirmations = Self Help." Psychology Today. Retrieved from: https://www.psychologytoday.com/us/blog/embodied-wellness/201704/affirm-or-not-affirm (Visited 03/27/2019).
6. "Time Management Tips for New College Students." HUFFPOST. Retrieved from: https://www.huffingtonpost.com/ross-a-rosenberg/time-management-tips-for-_b_12435970.html (Visited 03/27/2019).
7. "How to Motivate Yourself: 3 Steps Backed By Science." TIME. Retrieved from: http://time.com/2933971/how-to-motivate-yourself-3-steps-backed-by-science/ (Visited 03/27/2019).