Benefits for Military Servicemembers & Their Families
Reduced Tuition
AIU recognizes the sacrifices and service of military students. We believe that our military servicemembers should have affordable access to a high-quality post-secondary education. That's why AIU Online offers up to a 45% tuition reduction to active military undergraduate students, including members of the Reserves and National Guard and a 20% tuition reduction to active military graduate students, including members of the Reserves and National Guard.
Military Grants
In addition to the financial aid available to all AIU students, we've established four grants specifically for active-duty military members, veterans and their families:
Up to $1,500
For veterans with honorable discharge
Online campus only
Up to 10% of program costs
For spouses of active-duty and drilling servicemembers
Online campus only
For post-9/11 veterans or dependents
Online campus only
Annual grant
For National Guard who are active EANGUS members
Six full-ride scholarships
All campuses
Military-Friendly Education Partner
At AIU, we're proud that our programs meet the real needs of active servicemembers, veterans, and military families. We've already helped thousands of military students balance school with their other commitments, whatever they may be. You take your education seriously. So do we.
Did you know?
One third of all AIU students are affiliated with the military.
We understand the many unique needs of servicemembers and veterans. Our pacing options let you choose when, where and how fast to earn your degree. We work around the clock just like you do—with anywhere, anytime, 24/7 support. AIU's military friendly qualifications include:
Department of Defense Memorandum of Understanding for Post-Secondary Educational Institutions (DoD MoU) signatory
Defense Activity for Non-Traditional Education Support (DANTES) affiliate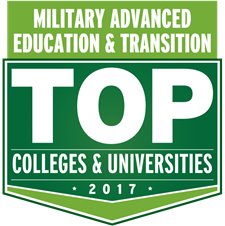 American InterContinental University was named " a TOP SCHOOL" in the Military Advanced Education 2017 Guide to Colleges and Universities. The accolade recognized the university for its dedication to making higher education accessible to military members, veterans and their families in four key areas: military culture, support services (including online support), financial services and flexibility.
Other Military Benefits
Five-Week Courses
With shorter class lengths, the chances are lower that a sudden deployment or transfer will interrupt your studies.
Prior-Learning Credit
You may qualify to earn college credit for your past military training, professional experience, and certifications.
Efficient Learning
Our flexible online courses let you study however you learn best and skip what you already know.