MBA vs. Master of Accounting
MBA vs. Master of Accounting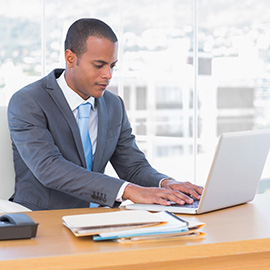 Few things in life are a sure bet for anyone. Educational options are no exclusion. When college students and business professionals face the decision to pursue an advanced education, they have to weigh the options in front of them and determine which degree will serve them best in the future. Often times this decision is not easy because more than one degree offers benefits that suit them personally and professionally.
For many professionals seeking to enhance their career opportunities, one of the most intriguing questions many face is whether to pursue a Master of Business Administration (MBA) or Master of Accounting.
Sorting Out the Options
Before any individual can decide which path is right for them, they need to better understand the options they have in front of them. The MBA competes against various Master of Accounting programs offered around the country. Briefly, the differences among these programs include:
MBA: Focused on providing students with an all-around education in business, including courses in finance and accounting. According to Monster.com, MBAs are available with a concentration in accounting and are a popular choice for those starting a career in accounting.2
Master of Science in Accounting: Offered by numerous institutions, this particular degree program is often geared towards undergraduate accounting students who need the additional 30 credit hours their undergrad degree didn't provide in order to sit for the Certified Public Accountant (CPA) exam.
Master of Accounting: Often aimed at liberal arts and general business majors, the Master of Accounting program is designed to prepare recent graduates or business professionals who have years of work experience for a career advancement in the field of accounting.
Public vs. Private Path
A big factor in determining which degree path better situates a graduate in the future is the decision between working in the field of public or private accounting. According to Monster.com, many individuals who are looking to work in the public accounting field tend to opt for the Master of Accounting. Many of these individuals completed undergraduate accounting programs and seek to build upon that with a Master of Science in Accounting.1
On the other hand, Monster.com notes that there is a bigger split among those in the private accounting path. While some will opt for a Master of Accounting, others will decide to pursue an MBA. Those who pursue an MBA have the option to continue working in accounting directly or moving into greater roles in business.
In the end it is not out of the question for individuals to experience the same levels of success regardless of the degree they choose. Those looking for a long career in public accounting will need to pass the CPA exam, and depending upon the state an individual lives in, both the MBA and Master of Accounting are acceptable graduate level degrees for earning the extra credit hours required to sit for the exam.
Each individual needs to sit down and analyze their career aspirations and determine which program will help prepare them to meet those goals. Individuals returning to school should also examine the expectations of current or potential employers as some companies will look for graduates with a Master of Accounting while others accept an MBA as well.
---
1. http://career-advice.monster.com/job-search/company-industry-research/accounting-career-paths/article.aspx
2. http://career-advice.monster.com/career-development/education-training/accounting-education-options/article.aspx
3. http://career-advice.monster.com/career-development/education-training/cpa-or-mba/article.aspx
4. http://career-advice.monster.com/salary-benefits/salary-information/best-paying-mbas/article.aspx