AIU Graduate Profile: Robert M.
AIU Graduate Profile: Robert M.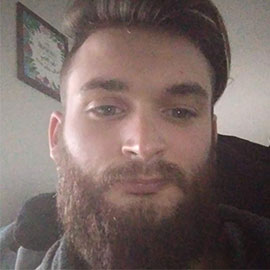 2022 Graduate
Bachelor of Science in Information Technology
Robert M. has been an avid gamer since he was 16 years old. While gaming may just be a hobby for some, for Robert it's a passion. Now he possesses a degree in the field that he loves.
When he decided to pursue his bachelor's degree in information technology (IT), his admissions advisor helped him on his path. "I had an idea what I wanted to do, but he talked to me," Robert said. We figured out that a specialization in Software Development & Analysis would be the best fit. Games are basically just software that go onto hardware devices.
Now, Robert is armed not just with a diploma but something more. My degree has given me a lot more confidence to pursue what I want to do. I always had a love for games, but I didn't know what all went into making them, he said. In one course, Robert and his classmates even learned how to build their own PCs.
For those considering getting their degrees, Robert says Just go for it. It's not as bad as what your worries are; you can go at your own pace. The classes are structured so they're five weeks at a time. It's a lot of workload but you can manage it. Really set a schedule and stick with it – that'll help you get to the end. The more organized you are, the happier you'll be that you set a schedule for yourself.
Robert was consistent in his studies during his degree program. He'd work, go home, dive into the reading material, post on discussion boards, and then jump into the assignments later in the week.
My experience at AIU was the most rewarding, but also one of the hardest, things I've ever done. It's easy to keep up with the work, but juggling life is hard. I just pushed through and I came out with something to be proud of – I came close to a 4.0 GPA.
Freshly equipped with his diploma, Robert has jumped into the task of job hunting and interviewing. I'd love to work in the gaming industry and be on a development operations team. Big games need gaming developers to keep them going. I would love to be the person who fixes the bugs and makes it last.