Why Programmatic Accreditation is Important
Why Programmatic Accreditation is Important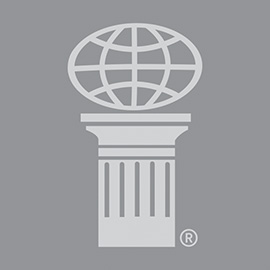 With all the acronyms and five-syllable words flying around, it can be easy to get confused about what college and program accreditations are, and what they stand for. However, if you take the time to learn exactly what accreditation is all about, you'll quickly discover how important it is to your choice of schools. While there are a number of different types of accreditation out there, if you are considering a degree in business administration like a management degree, programmatic accreditation may be more important to members in the business industry.
Accreditation organizations were developed to give weight to a school's diplomas. An independent accrediting organization will review a school's academic standards and evaluate whether the school is giving its students a substantive and valuable education. Once an organization gives its seal of approval, students can be assured that the organization has reviewed the quality and integrity of the degree program. Students may also be able to transfer their credits to other accredited institutions, as the new school can know that the credits the student earned are credible. However, the availability of transfer credit is always up to the school that the student is hoping to transfer into.
Regional accreditation covers many of the physical schools in the United States, with six different accreditors across different regions of the country. While each of these accreditors are independent, they work together to ensure that schools are held to similar academic standards. Since regional accreditors cover a physical region, they accredit the school as a whole instead of individual programs.
On the other hand, programmatic accreditation organizations specialize in individual programs offered at a variety of schools. Since these accrediting agencies focus on a single program, their approval is often sought out in the industry they are associated with, and students of schools with their accreditation can know that the accreditation can reaffirm a commitment to student service, faculty, and programs.
One such accrediting agency is the Accreditation Council for Business Schools and Programs (ACBSP) which recently gave American InterContinental University accreditation for its business administration programs. The ACBSP was founded in 1988 and is one of the leading accrediting agencies in the field of business education. The award to AIU is an affirmation to individuals looking to pursue a business administration degree that the programs at AIU are credible programs. The university is accredited for all specializations under the AABA, BBA and MBA degrees.
When looking for a school, accreditation may not be at the top of your shopping list. However, it should be an important factor in your decision. Choosing a school without accreditation, or with the wrong kind of accreditation, can make your business degree less effective or make your accrued credits more difficult to transfer to other reputable institutions. Accreditation helps institutions prove that they offer a quality education, and helps students know that the school they choose is one where they could learn skills they need once they graduate.
American InterContinental University, AIU, is part of the American InterContinental University System, which is accredited by the Higher Learning Commission (hlcommission.org), a regional accreditation agency recognized by the U.S. Department of Education. Additional information is available by clicking at the following link: https://www.hlcommission.org/.