Career Paths for those with a Bachelor of Business Administration
Career Paths for those with a Bachelor of Business Administration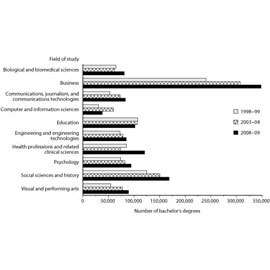 According to National center for education statistics, each year in the United States there are over one million students completing a course of study at undergraduate institutions, earning a Bachelor's degree in the process. Since 1980 there has been one field of study that has dominated other degree fields in terms of the number of degrees conferred upon graduates. By the end of the 2008-09 school years, earning a business degree was far and away the most popular choice among students in the U.S. [nces.ed.gov ]
At the conclusion of the 2008-09 school years, 1.6 million students were awarded Bachelor's degrees for the successful completion of a degree program. Among those 1.6 million degrees, business degrees accounted for 347,985 degrees. That means that nearly 22 % of college graduates in the U.S. that year had a Bachelor's degree in business.
With so many students heading into the job market the question is bound to arise, "what types of career paths are waiting for those with a Bachelor of Business Administration?" While everyone's experience varies, a business degree offers college graduates a variety of options in terms of jobs and careers.
For business graduates, two factors are highlighted as the biggest contributors to a graduate's career decision-making process. According to the United States Bureau of Labor Statistics (BLS) , a career field's salary potential and experience potential are the two biggest factors in choosing a position. The BLS also points out that three particular business career fields are particularly popular among Bachelor of Business Administration graduates.
Business Consultants
Working as a Business Consultant offers college graduates one of the most diverse career opportunities available. As a consultant, business professionals are not tied to one company for years at a time. Instead, a consultant works with different clients in different areas of business for shorter periods of time. Not every consultant will move around as frequently, and some may choose to specialize in one or two fields of business. Usually, extensive additional experience in the field is required to become a business consultant.
It is the responsibility of Business Consultants to work with client companies to help improve performance, efficiency, or profits. This is done by analyzing all available information about the company, including performance data and known problems, to help develop a solution for success.
Financial Analyst
It is the responsibility of a Financial Analyst to help a business, large or small, identify market trends, create forecasts for future investment, and help develop successful investment strategies. Positions in the analyst field are split, by in large, into buy-side and sell-side.
Buy-side analysts help investors by developing strategies for investing in stock portfolios, bonds, and other financial offerings. Sell-side analysts work for dealers selling stocks, bonds, and other offerings by helping match them with investors. Financial Analysts can work in a variety sectors within business and will have different specializations. No two individuals will have similar experiences and will be expected to maintain different levels of certification and regulatory knowledge depending upon area of specialization.
Management Trainee
For those who are not quite sure upon graduation what career field is right for them, there is the option to enter management trainee programs. These typically last one to two years and provide Bachelor of Business Administration graduates with additional education and practical experience in the field, before pursuing a full-time position.
Trainees tend to work in a variety of positions within the company they are training with, providing them with insight into a variety of roles available in the field of business. Some individuals are offered a position with the company they complete the training program with, but this is not applicable to every individual.
A Bachelor of Business Administration can help open the door to a variety of career fields for college graduates. Business degrees continue to be a popular choice among college graduates, with the number of business degrees awarded increasing steadily since the 1995-96 school year.
---
http://nces.ed.gov/fastfacts/display.asp?id=37
http://nces.ed.gov/programs/digest/d10/tables/dt10_282.asp?referrer=list
http://www.bls.gov/opub/ooq/2008/winter/art03.pdf
http://nces.ed.gov/programs/digest/d10/figures/fig_15.asp?referrer=figures