How to Find an Internship While Pursuing an Online Business Degree
How to Find an Internship While Pursuing an Online Business Degree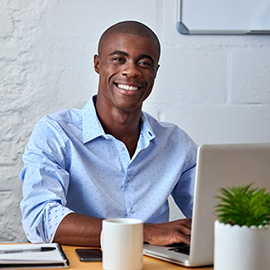 Securing an internship while pursuing an online business degree can position you well for future success, showing potential employers your intent, drive and real-world experience. This is all the more true in today's job market, especially since the pool of workers has grown while the number of available jobs follows a different trajectory.
The fact that you're going to school online versus on campus doesn't mean you have fewer opportunities to pursue. A good place to start is with your school's Career Services department, which can partner with you to identify and pursue internship opportunities. A good Career Services team also can assist with cover-letter and resume writing and offer guidance on interviewing.
Beyond that university resource, a bevy of internships suitable for students pursuing an online business degree can be found on the Internet, provided you know where to look. A few places to start include AboutJobs.com, Career Builder's CBcampus and College Central. Another resource for business internships comes from the United States federal government site, USA Jobs.
During your search, don't rule out embarking on an internship that doesn't require you to be in the same city as the company that hired you. Some sites offer "virtual internships," many of which involve research, sales, marketing and social media development for small- to-midsize companies and online businesses.
That said, don't be shy about relying on your current connections to help you. Networking and capitalizing on existing relationships to find an internship is key. Revisit your LinkedIn connections, start up a conversation on a LinkedIn group or attend networking events to test the waters and put yourself top-of-mind amid future colleagues in your field.
Regardless of what direction you want your career to take, the fact remains: An internship can give you an important leg up on your path to post-graduate success.