4 Steps to Effective Email Communication
4 Steps to Effective Email Communication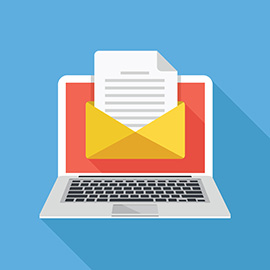 Email is so common in today's age that we must learn the proper ways to use it so it doesn't hurt our job search, but rather improves our search. With the need to email resumes and reaching out to potential employers, it can be hard to maintain that formal sense of professionalism within an email simply because it's done quickly. Not to mention the notion of texting lingo and how it can transfer over to our emails so easily. Here are four steps from AIU Career Services to help improve your email etiquette.
Be to the Point
Emails are intended to get to someone quickly and they will be read quickly. Make sure what you have to say is to the point and direct, but create something eye catching. You want to keep in mind that many email systems allow the email recipient to read just the first few lines before ever opening the email, so make sure those first few lines count and make sure your subject line is relevant to the message, short and sweet.
No Texting Lingo
Your emails, whether it's to a hiring manager, a co-worker, or even your Career Services Advisor should be professional, always. When you are on the hunt for a job you have to constantly represent the professional you are. The best way to break that image is using terms like LOL, smiley faces, or not writing out complete words (U, Thx, UR, TY, etc.). Treat all your emails as if they were a professional letter, using proper spelling, grammar and including an email signature with your name and contact information. Also remember to remove all colorful fonts or graphics, wallpaper, quotes and/or cute fonts.
Be Polite
Keep in mind that it may be easy to understand what a person is saying, but not as easy as to how they are saying it. Seriousness or sarcasm is very hard to understand over email. Always be mindful of how your message is getting carried over. Using all CAPs in an email or !!! implies you are shouting so hold off on any of these. Also be sure to never start an email out with a command, but rather a greeting and introduction such as Hello (Name of Recipient).
Get Face-to-Face Time
Nothing can replace the real thing. Having a face-to-face conversation with a hiring manager or a connection is always the best. It can be very easy to get caught up in the convenience of email, but don't hide behind your computer. You can represent yourself so much better in person! Remember when it comes to your job search, email should be used to initiate the conversation, but not to actually have it.
Following these simple steps can help you communicate in this common channel more efficiently and effectively. Learn more tips and advice from our Career Services department, as well as the services and resources they provide AIU students and graduates.
---
Read These Related Articles: