The Most Productive Ways to Build a Professional Network
The Most Productive Ways to Build a Professional Network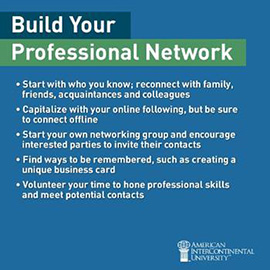 Building a professional network from the ground up can be daunting. In fact, it may seem impossible when you're bogged down with life and its day-to-day responsibilities. Don't despair, though: there is hope – in real-world ways.
Use these five tips to get the foundation you need to succeed.
Start with what – and whom – you know.

Sometimes you may feel like you're starting from scratch, but chances are that isn't the case. Assess who's in your current network, from classmates and teachers to family, friends, acquaintances and colleagues. Reconnect with them, and reach out to those you're regularly in touch with. Mingle with contacts at social and networking events, taking care to ask for their assistance in pooling resources and contacts. Don't be shy about attending alumni and reunion events either, as they can prove to be a treasure trove for networkers.

Capitalize on your online following.

Social networking – be it via Facebook, Twitter or a personal blog ¬– is abundantly helpful when it comes to building your network. However, it won't help if you only scratch the surface. Tap into these contacts. Make plans to meet offline and in person. And find ways to make professional connections that are personal, memorable and beneficial. By connecting with your network offline, you're not only likely to spark valuable discussions, but you also increase the likelihood of expanded, strengthened professional reach.

Start your own networking group.

Instead of waiting for something to happen, take charge and begin your own networking group. Suss out potentially interested parties and invite them to join. Encourage them to reach out to their network and do the same, knowing it's in the interest of common good. Then, plan ways to connect that count, starting with social situations where members can be more relaxed, open and amenable to building lasting professional relationships.

Make ¬– and leave – an impression.

We're all busy. We all meet a lot of people. As such, it's easy to forget a face or name. So, figure out ways you leave an indelible mark. This starts with enlisting a unique business card.

Volunteer your time.

Use your professional expertise to take up a cause. Whether it's related to your kids, your neighborhood, your fondness for animals or anything else, volunteering is a great way to get out and mingle while giving back to the community. While you're at it, look for ways to capitalize on your professional skills and put them to use. Perhaps a situation dictates that you develop a presentation or offers a chance to discuss your field and expertise (think your child's career night). After all, parents (a.k.a. potential, new contacts) will be in attendance. Consider, too, being a volunteer at a fundraiser of your choice; among the array of high-profile attendees, some just may be the key contacts you seek.
Jennifer Olvera is a Chicago-based freelance writer.
---
Read These Related Articles: