AIU's HLC Regional Accreditation Reaffirmed
AIU's HLC Regional Accreditation Reaffirmed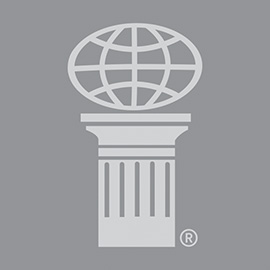 AIU is proud to announce that the university will continue to be regionally accredited through the 2023–2024 academic year. AIU is regionally accredited by the Higher Learning Commission, which is recognized by the U.S. Department of Education and the Council for Higher Education.
Accreditation is the tool that universities use to help ensure that students are receiving a quality education. Accrediting organizations such as the Higher Learning Commission set the academic and operational standards for learning institutions. (Learn more about how to research accredited online universities.)
"We are pleased the Higher Learning Commission extended our accreditation and appreciate the thoroughness, thoughtfulness and engagement of the commission during this extensive review," said Dr. George Miller, Chancellor and President of AIU. "We are gratified that the commission affirmed the university's ongoing compliance with its Criteria for Accreditation."
In order to maintain its accreditation, AIU periodically undergoes a series of rigorous reviews by HLC's Comprehensive Visit Team. The HLC team conducted an extensive review of the university in December 2013 prior to re-affirming AIU's regional accreditation.
The next reaffirmation of accreditation is scheduled for 2023–2024. In the meantime, AIU will have a comprehensive evaluation in 2017–18 and has two monitoring reports due to HLC, which will be completed by the end of January 2015.