The Networking Tool You May Be Overlooking
The Networking Tool You May Be Overlooking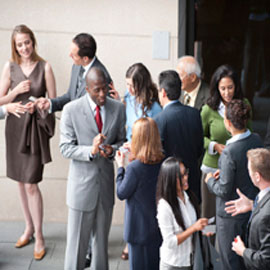 What you know will always be important, but whether you're a newly minted graduate, a working professional or looking to make a career change, you should never underestimate the importance of who you know. Fortunately, creating a network has never been easier. Years ago, professionals had to join a social club or run in certain circles to connect with colleagues or be introduced to potential mentors. Today, almost every profession has some sort of association to help motivated professionals meet, learn and grow in their careers.
In American InterContinental University's recent Serious Talk Webinar our expert panel discussed multiple ways associations can help boost your career in any field.
Showing Initiative. Joining a professional association shows your dedication and determination to succeed. "There's a lot that students or graduates can do to advance — not just have an advanced degree but to go that one step further," said Vicky Gore, AIU Online business program alumna and Business Analyst for J.P. Morgan Chase. Joining a professional association does more than look good on your resume; it shows you are willing to use your free time to advance your knowledge and expertise and grow your professional network.
Direct Networking. Social media groups and networking events can do a lot to expand your network, but professional organizations offer an organized and focused way to put you in direct contact with peers and mentors in your field and even your particular specialty. "This is how you meet people," said Dr. Robert Rodriguez, senior healthcare executive and AIU healthcare management program professor, at the webinar. "You've got to broaden your network, and you do it through associations, organizations, seminars and functions."
Leadership Opportunities. New professionals can also look to their professional associations for leadership opportunities by joining association boards or committees and volunteering their time to help organize association events.
A Training Resource. Most professional associations offer training breakfasts, weekend seminars, meetings and even professional certifications that allow you to expand your expertise, network and grow in your career. "Get involved with your professional affiliation," Kate Wollensak, Director of Compensation and Benefits for Morton Salt, advised at the webinar. "There are so many associations. It only takes a couple of meetings a year. You go to a breakfast briefing, or a lunch, and you network with professionals."