Do You Need to be Computer Savvy to Start College Online?
Do You Need to be Computer Savvy to Start College Online?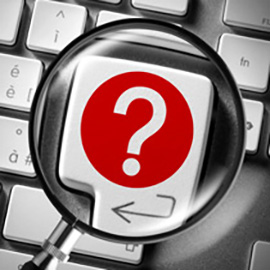 Many prospective students have the misconception that to be successful in online classes you have to first have a strong knowledge of computer programs and software. The reality is that you can start college online with little to no knowledge of computers. You just need to have realistic expectations, work hard and be prepared to be a little patient while you learn what you need to know.
In fact, one of the benefits of online learning is that it can be a great opportunity for students who aren't already computer and Internet savvy. On top of everything you can learn in your area of study, you also can pick up a good working knowledge of a wide array of common professional computer programs along the way. This can round out your resume and help make you more employable in today's high-tech job market.
What to Expect When You Start College Online
When I say "have realistic expectations," what I mean is that you should be prepared to put in some extra effort at the start of your program. You will be doing double-duty at first as you work to learn necessary computer programs while also keeping up with your weekly assignments.
You may feel lost, frustrated, and confused in those early days. If you can accept this as a part of the learning process and be prepared to move on from these experiences, you can take these challenges in stride. What may start out as an obstacle can turn to feelings of confidence and accomplishment as you gradually master more and more computer skills.
---
RELATED: How to Succeed in an Online Class - Tips from Students
---
If you know you'll need some assistance using unfamiliar computer programs when you get started in your online degree program, you should look for an online university that offers a strong support network. This network should include:
Technical support available to students 24/7 by phone, email or live chat.
A student advisor who can assist with many of the common usage problems new students experience.
A learning center where you can find guides and other resources on specific computer programs such as Microsoft Word and Excel.
The problem is that many of us (myself included) have a strong sense of pride. We do not like to admit when we haven't yet mastered something and delay reaching out for necessary help. In reality, there is no shame in having a few struggles, but if you let pride keep you from asking for help, it only makes the experience more frustrating and difficult. The best advice I can give to a computer beginner who wants to enroll in online classes is to save yourself some time and be proactive in using the help that is available to you.
Tips to Build Your Computer Skills for Online Classes
Keeping all of the above advice in mind, here are some tips to help make the transition to an online college a smooth one:
Take detailed notes: Try to take step-by-step notes to guide yourself through how you successfully completed a process. These will help you to repeat tasks more easily until you have mastered the process, and writing down the steps will help you begin to internalize the routine.
Learn the shortcuts: One of the great advantages of modern computer programs is that they have many shortcuts and other tools built into them which are designed to save you time and make tasks easier to complete. Play around in a new program and try to discover some of these!
Find tutorials and "how to" resources: Many companies post tutorials and additional resources for their products right on their websites, and your school may feature additional learning materials in its online learning center. Contact your student advisor for guidance in locating these resources.
Ask for help: Advisors and technical support specialists can assist you with many problems that are common for beginners. Take five minutes to seek out assistance and save yourself an hour of frustration.
Don't give up! The first couple of months can be challenging as you balance learning the computer programs necessary for class with your weekly homework assignments. The good news is that it should only get easier, and the newfound computer skills you develop can serve you well beyond graduation.
Ready to learn more about the benefits of online learning at AIU? Speak to an AIU Admissions Advisor today.