9 Things to Include in a Business Portfolio
9 Things to Include in a Business Portfolio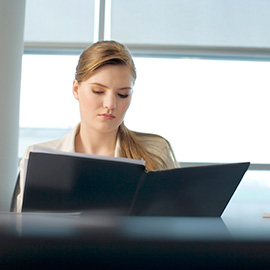 For designers and other creative professionals, the choice of what to put in a portfolio seems fairly intuitive. For business portfolios, what to include may seem less obvious.
The key is to select an appropriate mix of material that highlights your capabilities and, ideally, that shows how you have used these skills to solve problems. Examples include:
Copies of certifications or other official qualifications
Lists of accomplishments beyond those reflected on your resume, particularly those that involve problem solving
Performance reviews
Letters of recommendation or from employers and clients
---
RELATED: The Do's and Don'ts of Professional References
---
Relevant writing samples
Photos (or screenshots) of products on which you worked, or other projects that can be shown visually
News articles about you or projects on which you worked
Awards
Business documents (but use discretion with anything that may be confidential; seek permission if you are uncertain)
As with all portfolios, you should include an up-to-date copy of your resume, and make sure your resume is tailored for the specific role you are pursuing.
Paper Versus Web-Based Portfolios
Different industries have different standards for portfolios, and learning the appropriate way of presenting your work is an important part of knowing your audience. In general though, both paper-based and Web-based portfolios have their uses, and you may want to consider having both.
Clearly, to use your portfolio in an interview, you need access to it, and you cannot always guarantee that you will have access to the Internet. Paper lends itself to certain types of in-person discussion in a way that a website does not. Also, when dealing with sensitive materials, you may be able to secure permission to show a sample in a private meeting that you cannot put on the web.
The Web-based portfolio also has advantages. Paper cannot adequately demonstrate the richness of certain types of work samples, like presentations or multimedia. Also, creating a Web-based portfolio makes it possible for other people to find you when they need someone with your abilities and may use the Internet to actively search for candidates.
For many people, the right choice is to have both: a paper-based portfolio that you can carry with you and use whenever needed, and a Web-based portfolio that helps to market your skills and show off those things that paper cannot reproduce.
Interested in career development and job search tips? Find more career-related posts here.