How to Apply for College Grants
How to Apply for College Grants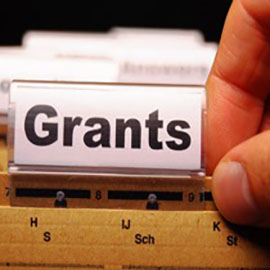 Hockey great Wayne Gretzky once said, "You miss 100 percent of the shots you don't take." His quote applies to many walks of life, and most certainly the process of how to apply for college grants. Many prospective college students are unaware of the number of grants available and the amount of money such grants can be worth. Sure, if you apply for a given grant, there is no guarantee that you'll receive it, but the more you apply to, the better your chances.
One thing that is guaranteed is that if you don't apply, you won't receive a grant, so you might as well give it a try.
Unlike scholarships – most of which are based upon merit – grants are often given to students on a need-based authority. Like scholarships, grants are offered from a variety of sources, such as colleges or career schools, private or nonprofit organizations, and both the federal and state governments.
Another similarity between scholarships and grants (and an aspect that makes them different from loans) is that the money is put toward your education, but it doesn't usually need to be repaid.
Where to Begin Searching for College Grants
A good starting point when applying for grants is to fill out the Free Application for Federal Student Aid, also known as FAFSA, which you can access here. Upon completion, the Dept. of Education will process your application and will send you a Student Aid Report (SAR) with an Estimated Family Contribution (EFC) number. The EFC is the result of a calculation based on the information you reported in your FAFSA; it is not the amount of money you would be personally responsible to pay toward your college education. Your college will use that figure when constructing your financial aid package.
You may then be asked to fill out additional applications based on the type and number of grants that you may qualify for. There are many different types of grants available, such as Federal Pell Grants, Federal Supplemental Educational Opportunity Grants (FSEOG), and Iraq and Afghanistan Service Grants. To read more about these grants and others, check out the U.S. Department of Education's website.
Get Prepared
John Paul Engel, now an author and motivational speaker, earned a full ride for his undergraduate education through grants and scholarships and authored an e-book about applying to college, "Project: Be The Change," that focused on payment options. John was able to offer up some valuable advice in regard to applying for grants.
"There are plenty of funding sources available. The key is to start doing research in your junior year to know what you will apply for and to get your applications in early," he says. "Never in your life will you have the opportunity to receive so much money for just a few hours of work. Work with the college you would like to attend to find out what is possible."
Understand Your Opportunities
An important part of understanding what's available is realizing that adult students have an abundance of financial opportunities available, many of them the same as recent high school graduates, says Pamela T. Rambo of Rambo Research and Consulting. As a college advisor for her consulting firm and a former college financial aid director and regional scholarship program director, she knows what's available to adult learners.
"The good news for adult students is that they can use the same resources to find scholarships for themselves as
younger students can because popular scholarship websites Fastweb.com and Scholarships.com 
also include scholarships for more mature students," she says. "Some additional aid sources that are used by adult students include G.I. Bill benefits and sometimes, state
Vocational Rehabilitation assistance as well as programs offered by state employment offices to help unemployed
and underemployed people train for a new career. Adult students can also take advantage of tuition assistance
programs offered by employers.
They should also look in their communities for organizations that offer scholarships that are targeted
for adult students."
It can be tough to muster up the time and research needed to apply for college grants. However, by following these steps, it shouldn't be too arduous of a process, and you'll never know what type of grants you could be eligible for unless you try.
Learn more about what financial aid opportunities you may be eligible for: Download our financial aid guide.