6 Degrees of Separation: Why Your Professional Network is Bigger Than You Think
6 Degrees of Separation: Why Your Professional Network is Bigger Than You Think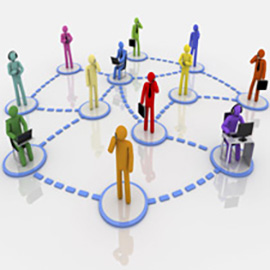 People say that everyone on the planet is connected through six degrees of separation. If this is the case, your network of contacts should be limitless! Sometimes we forgot or don't realize how many people we are actually connected to, and you never know who can help you get your foot in the door.
Typically someone's individual network of contacts comes from the following groups of people in his or her life. Make sure you are utilizing each of these different sectors to make your network as effective as possible:
Hometown
College
Previous jobs
Current job
Circle of "first level" contacts (close friends, family, etc.)
"Second level" contacts (a friend of a friend, for example)
New contacts (someone you purely know through social media or through professional networking)
Some contacts may be easier to connect to than others, like current or recent coworkers. Others, such as hometown friends or colleagues from over a few years ago, may take a little more work. However, the good news is that LinkedIn helps to make this easier: you have the option to state how you know this person to help jog his or her memory, and you can also send a personalized message. Perhaps you can reference where and when you went to school together, what class you had together, or the general area you both studied. Ask them what they are up to – people usually jump at the chance to talk about themselves!
Think about these two questions when crafting your message: What might your message say to give you a better chance of making or renewing a meaningful connection? What would help this person remember you?
Still stuck? Here's an example of a note you might write when reaching out to connect with an old friend/coworker/fellow student on LinkedIn:
Dear Sally,

Thank you so much for taking a moment to read my message! I wanted to reach out and touch base with you. I know it has been a while since we both attended AIU together. If I remember correctly, we had English 101 together. I see from your LinkedIn profile that you have an impressive career in human resources, and I am actually hoping to transition into that field as well. I was wondering if you would be willing to share some advice with me. If you're interested you can reach me at SallySmith@gmail.com or just replying via LinkedIn. If there's anything I can do for you, just let me know.

Regards,
This is just one example for someone you may have taken a course or two with; be sure to tailor what you say to the specific way you know this contact (or hope to know them in the future).
It's best if you try to include all of these different kinds of contacts into your network. Also, don't forget that if you are only networking online through social media such as Facebook and LinkedIn, you may be missing out! Try to get out and attend job fairs, community and alumni events, or local chapters of professional associations. Stepping outside of the box can help energize your job search and get you out of a rut.
Interested in more posts on networking and relating topics? Check out our Career Development blog.
If you're a current AIU student or alumnus looking for more career advice, please contact the Career Services Department at 877-221-5800 ext. 15060 or careerservices@aiuonline.edu. Also, be sure to join the Career Services Club in the Virtual Commons where you can find hot job leads, network with fellow job-seekers, and discuss relevant job search tips from the Career Services Department with fellow club members!