Transferring from Community College: 6 Things to Know
Transferring from Community College: 6 Things to Know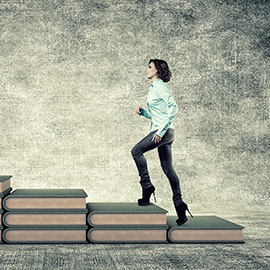 Thinking of transferring from community college to a university to complete your degree? The good news is that it's a lot less complicated than you might think. Amy Martin, University Registrar at American Intercontinental University, shares her top six tips to help you take this important step forward:
1. You're not alone. In fact, community college students make up 45-percent of all U.S. undergraduates.1 This statistic should give you a degree of comfort as you move forward on this path of transferring credits you've earned to finish your degree.
2. Read the course catalog. Do your best to make sure your time in community college counts by researching ahead of time to see what classes the college or university you plan on attending requires for your program of interest. Knowing this information can help you save time and money, Martin says.
3. Check for partnerships. Many community colleges have articulation agreements, or transfer agreements, with certain four-year colleges and universities that guarantee that credits from applicable courses will transfer. These partnerships also can go a long way to saving time and money, Martin says.
4. Think through your class choices. Martin says knowing the bachelor's degree you want to pursue should shape your class choices at the community-college level. She advises talking to advisors at both the community college and the four-year college or university you plan on one day attending to make sure transferring credits is possible.
5. Prepare your paperwork. Find out what your new college or university will require in terms of documentation. Commonly required documents include proof of high school graduation, an official transcript of any degrees received or credits earned at a community college, and proof of any other degrees, credits or certifications earned. In addition, if you've served in the military, be ready to show documentation that reflects your time of service, Martin says.
6. Use your resources. This is perhaps the most important tip of all, Martin says. Along with talking to the guidance office at your community college, speak to an advisor at the school to which you plan on transferring. "Don't be afraid to reach out," Martin says. "There should be someone in their guidance office who is more than happy to walk you through the process" no matter how far down the road your anticipated transfer is. Questions you should ask:
Is there an articulation agreement with my community college?
What is the minimum GPA I need to transfer credits and to be eligible for admission?
Will the credits I've earned be accepted?
Should I transfer colleges, and what else can I do to help make the process of transferring college credits go smoothly?
Martin says to remember that others are there to help, and that both community colleges and the four-year schools should have resources in place to help make the process of transferring from community college as painless as possible for students.
"You don't have to go it alone," she says. "There are people there to support you."
Thinking about returning to school or transferring colleges but don't want to start from scratch? Download our Transfer Credit guide to find out how you may be able to get credit with previous college, military, or work experience.
---
1 https://www.parenttoolkit.com/college-and-career/advice/community-college/12-questions-answered-for-parents-of-students-considering-community-colleges (visited 10/31/2018)