Do You Need a Degree to Start a Business?
Do You Need a Degree to Start a Business?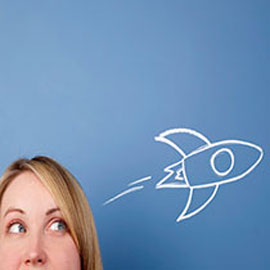 Nowadays, it might seem like every wildly successful business owner from Steve Jobs to Mark Zuckerberg reached his pinnacle without having to take a long "pit stop" at college to earn a degree. With so many stories like theirs in the media, it begs the question: Do you need a degree to start a business?
Foregoing a degree might seem like an attractive option when you take into account your investment of time and money in pursuing one. But 50 percent of those who start a business will fail in the first five years, according to the Small Business Administration,1 and those businesses certainly aren't making headlines for their financial loss.
Take into consideration that for every monolithic success like Jobs and Zuckerberg, there's a bastion of highly-skilled, formally trained employees propelling their company's success behind the scenes; if you'll eventually desire highly-skilled and trained employees to help you along the way, you may want to augment own your training and skills first as well.
Starting and growing a business requires a breadth of skills to do so successfully; good negotiation and decision-making as well as creative, analytical and communication skills are a must. The benefits of a degree that can thoroughly prepare you to start, operate and grow a successful business can surmount the investment of doing so––when you choose the right degree for your business goals.
A Degree Can Make The Start Smoother
While it's true that the hard-knocks "university of life" might provide you with a real-world education for success in starting a business, good training in the right degree program can help you avoid unnecessary blunders and lower your learning curve along the way. It can mean the difference, for example, between slogging through understanding your business accounts with the help of your bookkeeper––someone who is not a trained teacher and may not be keeping up on the top industry standards and methods––or gliding more easily and familiarly through your book of accounts.
The key is to chose the degree that can provide the best return for your investment based on what you need to know for the day-to-day operation of your business. A degree in business administration, marketing and accounting can be a good foundation. Some universities also offer business degrees in entrepreneurship.
With a bachelor's in business administration for example, you can gain a foundation across multiple aspect of business, so you can apply it to any business or industry you're pursuing. With a business degree, you can learn crucial skills in:
Basic accounting methods and principles
Business analysis and operations
Forecasting, budgeting and risk management
Marketing and current technology
Ethical and legal best practices in today's business environment
Be Better Equipped to Turn Your Idea into a Business
Many small business owners offer a great product or service but are at a loss on how to run and maintain the business side of it. You may be an excellent designer or craftsmen, but if you don't know the fundamentals, you may be taking a bigger risk.
If you started a business and are unsure how to grow it, even gaining an associate's degree in business administration can provide you with the basics in accounting, marketing and economic principles. You may also be better equipped to avoid common pitfalls like faulty cost-pricing, business tax filing and other administrative challenges that come with owning your own business.
The Value of a Degree
A support network is vital to starting and growing a business, according to the Small Business Administration (SBA). The staggering amount of decisions and daily tasks that go into starting your own business, particularly in those first months, call for a supportive network, per the SBA.
A strong alumni connection is an excellent resource. Alumni who have forged successful business can provide ample mentorship and direction when you're just starting out, as well as tips and resources for getting off the ground.
Beyond alumni connections, you also have the potential to earn more as a college graduate: According to the U.S. Bureau of Labor Statistics, people who have a bachelor's degree earn 65% more per week than those with a high school diploma alone.2
The upshot is that if you're asking yourself the question, "Do you need a degree to start a business?" the answer is that while you can certainly start a business without a degree, earning a degree in which you can learn and master good analytical, marketing, managerial and accounting skills, may help you stand a better chance of success in the long run.
Ready to learn more? Explore the variety of business degree specializations at AIU.
---
1. Small Business Administration FAQ, on the Internet at https://www.sba.gov/sites/default/files/sbfaq.pdf (visited on July 29, 2015)
2. Bureau of Labor Statistics, U.S. Department of Labor, "Earnings and Unemployment Rates by Educational Attainment," on the Internet at http://www.bls.gov/emp/ep_chart_001.htm (visited 8/17/2015); These are national projections covering all levels of experience; conditions in your area may be different.