Entry Level Accounting Jobs: What are the Opportunities?
Entry Level Accounting Jobs: What are the Opportunities?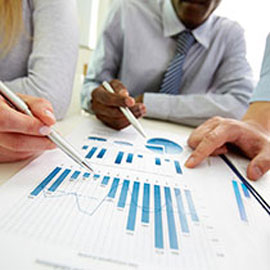 If you're embarking on a career path in the financial arena, you might be surprised to learn about the variety of entry level accounting jobs you can pursue. There are about 1.2 million professionals who currently work in some area of the field, and many employers require at least a bachelor's degree in accounting or in a similar field, according to the Bureau of Labor and Statistics (BLS).1
The most appealing roles for those just starting out are ones that offer a good starting salary, show stable job growth, and better position you for eventual advancement to a more senior role. Deciding what path best aligns with your goals and interests begins with exploring the details about the typical entry level accounting jobs in today's companies and organizations.
Staff Accountant
A staff accountant is responsible for many areas of an organization's finances. These may include creating, researching and analyzing financial reports; meeting with management to present and review company financials; and developing a company's table of accounts in filing company taxes. Many times, organizations advertise an entry level staff accountant position with a requirement of one to three years or less of experience. While an entry level accounting salary may vary, the median pay for accountants and auditors was $63,500 annually in 2012, according to the BLS.1
Staff Auditor
A staff auditor is responsible for reviewing and analyzing an organization's finances and financial systems. They oversee financial data, checking for noncompliance of legally required financial systems, inefficiency and fraud. They're responsible for organizing an audit and preparing and presenting their report and findings to an organization's management. The field is expected to grow handsomely, with the BLS projecting an increase of 166,700 jobs for accountants and auditors between 2012 and 2022.2
Cost Accountant
In many cases, management accountants start as cost accountants. Cost accountants calculate and analyze the cost of a product or service, and they work with management to set costs based on cost behavior analysis.3 Gaining experience in statutory accounting principles (SAP), which are a set of accounting regulations, is important for this role and can help make you a better candidate.
Entry Level Budget Analyst
A budget analyst helps to create an organization's annual budget, oversee organizational spending and alert program managers about funding in each area. The majority of professionals who work in this field note that a good understanding of economics, and accounting knowledge is essential.4 While entry level budget analysts start off with more limited responsibilities, but per the BLS, advancement is common. 5
Gain Experience to Secure Your First Job:
Land a summer internship: You may have limited direct experience in the field, so it's common to list relevant coursework and classes on an entry level accounting resume. Check with your university and search popular job boards where summer internship positions are advertised. The American Institute of Certified Public Accountants (AICPA) is also a good resource, providing an extensive list of companies that offer internship programs.
Target organizations that train new hires: Search for "will train accounting jobs" on popular job boards to get results in your area where companies offer a training program for great candidates with little experience.
Seek out mentoring programs: Mentors typically work with professionals within an organization, helping them hone their skills for advancement in their field. But if you're searching for your first job, research whether your local CPA society or board of accountancy offers a mentoring program. Some do offer comprehensive programs and support for recent grads or for those still in school.
Find contract and temp work: Many times, from an employer's standpoint, it's less risky to hire a temporary candidate. Likewise, it's an opportunity for you to gain experience and to show a potential employer how well you'll do in a permanent role.
No matter what path you take, getting started in the accounting field can be a stable path to a rewarding career.
Ready to learn more? Explore accounting degree programs at AIU.
---
1. Bureau of Labor Statistics, U.S. Department of Labor, Occupational Outlook Handbook, 2014-15 Edition, Accountants and Auditors, on the internet at http://www.bls.gov/ooh/business-and-financial/accountants-and-auditors.htm (visited July 20, 2015)
2. Bureau of Labor Statistics, U.S. Department of Labor, Occupational Outlook Handbook, 2014-15 Edition, Accountants and Auditors, on the internet at http://www.bls.gov/ooh/business-and-financial/accountants-and-auditors.htm (visited July 20,2015)
3. Bureau of Labor Statistics, U.S. Department of Labor, Occupational Outlook Handbook, 2014-15 Edition, Accountants and Auditors, on the Internet at http://www.bls.gov/ooh/business-and-financial/accountants-and-auditors.htm#tab-4 (visited July 20,2015)
4. O*Net Details Report for Budget Analyst, on the Internet at http://www.onetonline.org/link/details/13-2031.00 (visited July 26, 2015)
5. Bureau of Labor and Statistics, U.S. Department of Labor, Occupational outlook Handbook, 2014-2015 Edition, Budget Analysts, on the Internet at http://www.bls.gov/ooh/business-and-financial/budget-analysts.htm#tab-2 (visited on July 25, 2015)