How Does Financial Aid Work for College? [FAQ]
How Does Financial Aid Work for College? [FAQ]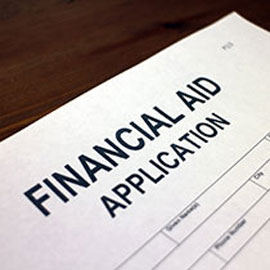 You know you want to earn your degree. After all, in the long run, the investment in your education will be worth it. The numbers prove it: Per the U.S. Bureau of Labor Statistics, people with a bachelor's degree earn 65% more per week than those with a high school diploma alone.1
Making the decision to go to college is an important one, but figuring out exactly how does financial aid work for college can be a confusing road to navigate. The good new is, there are a lot of options when it comes to financing your education. We've compiled a selection of the most frequently asked questions about how financial aid works to help you pave your path back to school.
1. What is financial aid?

Financial aid is the name used for federal, state and private resources that may help pay for college costs. Typically financial aid consists of grants, scholarships, loans and student employment. Grants and scholarships generally do not have to be repaid. Loans must be repaid, with payments usually beginning after the student is no longer enrolled at least half-time. Student employment consists of opportunities for students to earn money to pay for educational expenses.
2. What's the difference between grants and loans?
Grants are free money and do not usually need to be repaid. Loans are borrowed money and must always be paid back, regardless of whether you complete the program or are satisfied with your educational experience.
3. How do I apply for financial aid, and what is needed to apply?
The Free Application for Federal Student Aid, more commonly known as the FAFSA, is the single application needed to apply for all sources of federal student aid. The FAFSA can be completed online at https://studentaid.gov/h/apply-for-aid/fafsa. While completing the FAFSA, there are a few things that students need to have on hand before they start. In order to confirm identity, U.S. citizens will be required to have their Social Security number, while eligible non-citizens need to have their alien registration number. Driver's licenses are also helpful but not required. Additionally, any federal tax returns (both student and parent, if dependent) and asset information for the past two years will be needed. It helps to complete and submit the FAFSA electronically to expedite the process. The PIN, which previously allowed students to "electronically sign" the FAFSA, was replaced by a Federal Student Aid ID. An FSA ID can be obtained by visiting fsaid.ed.gov and clicking on the link to register. If you are a dependent student for aid purposes, both you and your parent will require an FSA ID to sign the application electronically. All students and parents who already have a PIN will have the option to link that PIN to their new FSA ID. Remember, your FSA ID is private and should never be shared with anyone.
4. Why do I have to provide parent information on my FAFSA?
Students are considered dependent or independent for financial aid purposes based on criteria established by Congress. For example, students who are under the age of 24, single, have no dependents and are not veterans of the U.S. military are typically considered dependent for financial aid purposes. Dependent students are required to have parents provide financial information in order to determine eligibility for the various federal aid programs. Check with the financial aid office to determine your dependency status if you are unsure.
5. How often do I have to reapply for aid?
Students must reapply for federal and state aid each year. Typically, students should reapply for aid as soon as possible after January 1st; however, check with your financial aid office to determine when you should reapply.
6. When do I have to repay my loans?
Repayment on most loans will begin after the student is no longer enrolled at least half time. Some loans are interest-free while the student is enrolled. Interest may accrue on other loans even while the student is enrolled. Check with the financial aid office, which can help explain the differences in the types of loans you have. In all cases, loans must be repaid regardless of whether you complete the program or are satisfied with your educational experience. Failure to repay your loans can result in serious consequences and negatively impact your ability to obtain credit in the future.
7. Is there somewhere I can go online to find out more?
Visit the financial aid section of the AIU website to find more detailed information about financial aid and the various programs available for those who qualify.
8. I still have more questions; who can I contact?
If at any point in the financial aid process you have questions or need more information, an AIU financial aid representative can provide assistance. They can help you explore your funding options, including whether you may qualify for military aid. You can also speak with our Prior Learning Team to find out if you can save time and money on your degree by earning credits, previous college, work or military experience.
Learn more about how to pay for college: Download our Financial Aid Guide.
---
1 Bureau of Labor Statistics, U.S. Department of Labor, "Earnings and Unemployment Rates by Educational Attainment," on the Internet at http://www.bls.gov/emp/ep_chart_001.htm. Based on median weekly earnings. These are national projections covering all levels of experience; conditions in your area may be different.
Financial aid is available for those who qualify.