Math Requirements for Business Majors
Math Requirements for Business Majors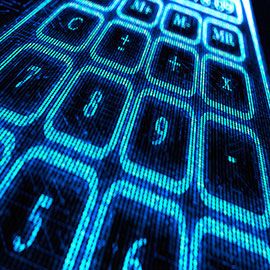 When faced with a frustrating math problem, it's not unusual to think, "Am I ever going to use this in the real world?" If you're a business major, the answer is "yes." You may envision yourself leading a spirited boardroom discussion, or pitching projects to potential clients, but it's important to remember that business is a numbers game. A firm grasp of math is essential, and a solid business degree program will include classes with real world math requirements that you'll use through out your career.
Because so many important business decisions are made on the basis of numbers, students need to learn how to analyze data and think critically about facts and figures. There are many applications for strong math skills in the business world. Business majors who wish to focus on finance careers will need a strong calculus background. Knowledge of statistics and probability are also vital for finance careers, and figure prominently in the marketing field too. Algebra and geometry round out the list of college math skills business majors should have. Business degree requirements also typically include courses that are not "pure math" but still require mathematical thinking, like accounting, computers and economics.
American InterContinental University (AIU) offers three business degrees: an Associate of Arts in Business Administration (AABA), a Bachelor of Business Administration (BBA) and a Master of Business Administration (MBA). Students who pursue an AABA or BBA will need to take BUSN 125 (Applied Business Math), which also fulfills a General Education Requirement. This course addresses the different mathematical applications commonly found in business and can help students develop the critical thinking skills they will need to work in business careers.
Students who pursue a BBA will also need to take BUSN 311 (Quantitative Methods and Analysis), which involves advanced coursework in probability and statistics with an emphasis on their role in business decision-making. Core business classes for a bachelor's in business also include work in managerial accounting and financial management. Bachelor's degree students need to choose an area of specialization, and students who love numbers can choose specializations in either accounting or finance; both will require additional coursework that calls for mathematical thinking.
AIU's Master of Business Administration does not require basic math courses, as those would have been completed during undergraduate studies. However, the program's courses call for a level of math proficiency, as they explore specialties within the field in more depth than undergraduate courses. If you're interested in an MBA but feel concerned that your math background isn't strong enough, this article may give you some useful tips.
Math requirements for business majors will vary based on the institution. When you examine academic programs, consider how comprehensive and thorough the math requirements are. A strong program should provide you with coursework that gives you a solid general foundation but is also tailored to your specific career goals.
Ready to learn more? Explore business degrees at AIU.