What Can You Do With A Business Administration Degree?
What Can You Do With A Business Administration Degree?
Posted January 15, 2015 by Eleanor Collier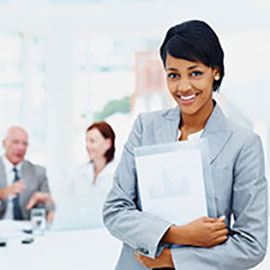 What can you do with a business administration degree? This is one of the most versatile qualifications that you can earn in today's marketplace, as every industry needs business expertise.
From public to private institutions and from start-ups to international companies, employees who have acquired the vital skills of a business qualification can be much valued across all facets of business operations.
What Can You Learn from a Business Administration Degree?
Successful completion of a Bachelor of Business Administration program can provide students with a strong foundation of business knowledge and practical, industry-related skills, including how to:
Apply teambuilding and leadership skills and employ methods for improving decision-making
Apply quantitative tools to analyze contemporary business functions and practices.
Apply the concepts and principles of finance, economics, and accounting to make effective decisions in the global business environment.
Apply current operations and marketing management practices and principles used in the business environment.
Examine the implications of technology and the Internet on today's businesses.
Recognize and manage potential ethical and legal conflicts in today's business environment.
Jobs with a Business Administration Degree
According to a Burning Glass analysis of national jobs data, the most common titles that call for a bachelor's degree in Business Administration include:1
Business Analyst
Account Manager
Human Resources Manager
Sales Manager
Sales Representative
In these roles and others, graduates with business administration degrees can work across a wide range of fields and organizations both in the United States and further afield. Among the industries most likely to be seeking employees with a business administration degree are professional, scientific and technical services; hospitals; credit intermediation and related activities; Insurance carriers and related activities; and educational services.
Top Skills for a Business Administration Degree
One of the reasons that a business administration degree is a popular choice is that it offers a great grounding in business skills and can build a thorough understanding of how business works, allowing graduates to work across many roles. The top skills employers are looking for in those pursuing such positions include2:
Business Administration: Planning, organizing, directing and evaluating business functions essential to efficient and productive business operations3
Sales: Sell goods for wholesalers or manufacturers to businesses or groups of individuals.4
Business Development: Developing and implementing growth opportunities
Business Process: Develop, maintain and implement processes for delivering products and services to customers and clients
Scheduling: Planning around the needs of a company and its customers and ensuring that end-to-end business operations run smoothly.
Ready to learn more? Explore business degrees at AIU.
The presence of specific potential jobs on this list does not guarantee availability of career opportunities. All statistics referenced are national historical averages and the figures in your area and at the time of your job search may be different.
---
1 Labor/Insight (Burning Glass Technologies), 1/1/13-1/31/13
2 Labor/Insight (Burning Glass Technologies), 1/1/13-1/31/13
3O*Net Online, http://www.onetonline.org/find/career?c=4 (retrieved 1/7/2015)
4O*Net Online, http://www.onetonline.org/link/summary/41-4012.00 (retrieved 1/7/2015)