What Can You Do With A Healthcare Administration Degree?
What Can You Do With A Healthcare Administration Degree?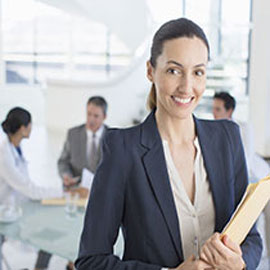 The healthcare industry is experiencing rapid change, driven by the aging population, evolving technologies, and new laws. You can be a part of this exciting field by looking to advance your career with a healthcare management or healthcare administration degree. But what can you do with a healthcare administration degree? Read on to find out.
What You Can Learn in a Healthcare Administration Degree Program
A good healthcare administration program, sometimes also known as a healthcare management degree program, should focus on the unique qualities, knowledge, and skills employers are looking for in today's quickly changing healthcare industry. Look for one that aims to provide you with an experience including:
In-depth study of the healthcare management field across multiple disciplines such as law, marketing, business, government, finance, accounting, ethics, management and technology
Faculty of industry specialists who bring their real-world perspectives into the classroom
Opportunities to work in hospitals, nursing homes, home healthcare businesses, insurance companies and more.1
Top Healthcare Management Jobs
According to a Burning Glass analysis of national jobs data, the top title that calls for a healthcare management degree is medical and health services manager.2 Medical and health services managers (also called healthcare executives or healthcare administrators) are responsible for planning, directing, and coordinating medical and health services for an entire facility, specific department, or a medical practice. Someone in this position must be able to adapt to and grasp understanding of changes in healthcare laws, regulations, and technology.
Most roles require a bachelor's degree, and master's degrees also are common. Growth for medical and health services managers is projected to be 23 percent from 2012 to 2022, much faster than average, according to the Bureau of Labor Statistics, and median pay is $88,580 a year as of May 2012.3
Top Industries for a Healthcare Administration Degree
Whether you want to be on the front lines or behind the scenes, there are plenty of entities searching for people with a bachelor's in healthcare administration. The top industries seeking employees for such roles include4:
Hospitals
Insurance carriers and related activities
Ambulatory health care services
Educational services
Professional, scientific and technical services
Top Skills for a Healthcare Administration Degree
The Burning Glass analysis shows employers are looking for specific skills from people with a healthcare administration degree. Some of the specialized skills most in demand include5:
Public health and safety. Someone with this skill is knowledgeable about protecting the health of populations through education, promoting healthcare equity, and policy recommendations.
Collaboration. Working together with various participants (for instance: patient and a healthcare professional, or a hospital and an insurance company) toward a common goal.
Account management. Work with customers and partners to manage accounts and relationships.
Program planning. Plan and implement programming
So what can you do with a healthcare administration degree? As you can see, opportunities are dynamic and varied. Ready to learn more? Explore AIU's healthcare management degrees.
The presence of specific potential jobs on this list does not guarantee availability of career opportunities. All statistics referenced are national historical averages and the figures in your area and at the time of your job search may be different.
---
1. Source: https://www.aiuniv.edu/degrees/healthcare
2. Source: Labor/Insight (Burning Glass Technologies), 1/1/13-1/31/13
3. Source: http://www.bls.gov/ooh/management/medical-and-health-services-managers.htm
4. Source: Labor/Insight (Burning Glass Technologies), 1/1/13-1/31/13
5. Source: Labor/Insight (Burning Glass Technologies), 1/1/13-1/31/13