Technology in the Classroom: 5 Ideas for K-12 Teachers
Technology in the Classroom: 5 Ideas for K-12 Teachers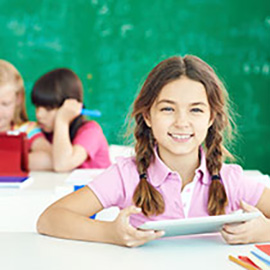 Using instructional technology in the classroom isn't a new idea. But the way it functions is constantly evolving. New ideas are continually being introduced as older approaches are phased out. There was a time when classroom teachers left technology integration to the computer specialists, but our students are growing up in an increasingly digital world and need ongoing exposure to classroom technology.
Technology and education complement each other well, giving teachers across grades levels and academic disciplines endless ways to use technology in the classroom and help students become more digitally literate. Even early elementary students can learn to use technology for a variety of purposes.
For students of all ages, the benefits of technology in education can be far-reaching. Using technology in the classroom can help students learn the necessary skills to help them succeed, but it also creates opportunities for students to work together, teaching them to cooperate and support each other as they learn. Teachers who need to differentiate instruction can find a wealth of resources to help them address the needs of all their students. Classroom technology can also be used to keep parents informed about what their children are learning and deepen their involvement.
Here are five ideas for pairing technology and education that teachers can implement across grade levels and school subjects.
1. Jazz up direct instruction. Gone are the days of chalk-and-talk. But you still need to convey information to students in a meaningful way. When we think about classroom technology, we often picture students using laptops and tablets, but it's not just for them. There are numerous ways teachers can use instructional technology to enliven their lessons. For example, slideshow programs such as PowerPoint allow you to incorporate audio and video clips, as well as images and animations. The use of different types of media can help you address the different learning styles of your students while creating engaging, thoughtful lessons.
2. Incorporate learning games. Computer games have changed significantly since the days of Space Invaders. While many modern games remain for entertainment purposes only, there is an abundance of options for teachers who want to bring games into the classroom to enhance and support learning. A quick search for "educational online games" generates almost 300 million possibilities, but searching for a specific grade level and topic will give you a more manageable set of possibilities. Webquests, while not traditional games, can also provide students with an opportunity to merge learning and entertainment.
3. Move beyond essays and worksheets. The availability of technology gives students new options for showing what they know. Instead of research papers, essays and journals, students can create websites and podcasts. Introducing paperless projects is good for the environment, and the ability to read, write, edit and publish digitally will serve students well as they transition to higher education and the world of work. Digital projects also help students build important collaborative skills as they work together to create and problem-solve. This resource from literacy association ReadWriteThink offers a helpful primer on getting started with podcasts, while teachers and students can create websites with services such as Weebly.
4. Streamline parent communication. If you began teaching prior to the tech boom, you probably spent a lot of time trying to call parents on the phone. Today, teachers can create online grade books that save them from having to calculate averages, and there are also sites with features that allow parents to log in to see their child's grades. Setting up a regular e-newsletter is another way to keep your students' parents informed and involved. Technology integration can make communicating with parents much easier and provide them with welcome opportunities to see what their children are learning by providing links to class websites and other digital products.
5. Rethink social media. This idea may make you shudder, and will likely require close monitoring, but social media gives you additional options for using technology in the classroom. Thoughtful use of certain platforms can help students develop useful academic skills while also teaching them to use social media responsibly. Students can curate visual content on Pinterest boards, or create blogs on Blogger, Tumblr or WordPress. Twitter is also flexible, with numerous uses for both students and teachers.
The above ideas provide just a sampling of the possibilities, but these ideas can be a great starting point to expand your technological repertoire. In addition to providing tremendous benefits to the students, using technology in the classroom can also help you teach more creatively and effectively.
Interested in moving your education career forward? Explore online master's degrees in elementary and secondary education at AIU.