Can You Graduate College Early?
Can You Graduate College Early?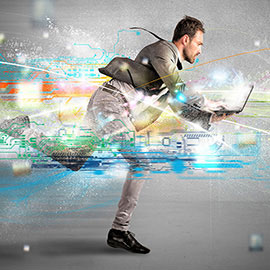 College is a big-time investment no matter what type of degree program you're considering, and it takes a lot of focus and organization just to finish on time. With graduation times for traditional 4-year degrees starting to stretch as far as 6 years for many of today's students,1 those looking to start or return to school may be wondering, "Can you finish college in 3 years?"
It is, of course, still possible to finish a 4-year degree early, but if you want to graduate college in 3 years, you'll need to be savvy about all of your options.
Why Try to Graduate Sooner?
One of the primary reasons you pursue a college degree is to increase your opportunities and earning potential once you enter the job market. It makes sense, then, that you may want to finish your degree program as quickly as possible so you can start working toward your career.
Saving money is often another main motivator for students trying to finish their 4-year degree early, especially for those accruing yearly student loan debt. There can be other advantages as well, such as being able to start a graduate program earlier than planned. Just make sure that finishing college in 3 years still leaves time for any necessary internships and preparation for important professional exams you'll need before you can enter the workforce.
How to Finish College Faster
If you want to graduate sooner, you'll need to find ways to make the most of the time you spend in school. More than just taking the maximum course load that you're able to handle, also keep in mind these additional ways you may be able to complete your program in less time than you may have expected:
Online Programs – Look into flexible online programs that may enable you to complete additional courses faster than at a traditional college or university.
Summer School Courses – Find out whether your school offers summer classes or condensed courses during break periods. Often this can be an efficient way to complete general education requirements so you have more time to focus on your main degree courses during the semester.
AP Credits – If you took any Advanced Placement (AP) classes in high school, make sure to look into whether you can receive college credit for these courses.
Credit for Military or Work Experience – Many schools and degree programs may offer credit for previous military and/or work experience. Talk to your registrar's office or academic advisor to find out if you qualify for any such program.
College Level Examination Program (CLEP) – Developed by the College Board, CLEP offers 33 exams across 5 areas of study each year. These exams cover material you would typically encounter in lower-level courses taken during the first 2 years of a traditional 4-year degree program, and a passing score can help you earn credits with participating colleges. At a cost of $80 per exam, CLEP can be an efficient and cost-effective way to fulfill more basic gen ed requirements.
Ready to learn more? Explore AIU's online degree programs.
---
1. National Center for Education Statistics, U.S. Department of Education, The Condition of Education 2015 (NCES 2015-144), Institutional Retention and Graduation Rates for Undergraduate Students, on the Internet at https://nces.ed.gov/programs/coe/indicator_cva.asp (visited on 10/4/15).