7 Benefits of Online Learning
7 Benefits of Online Learning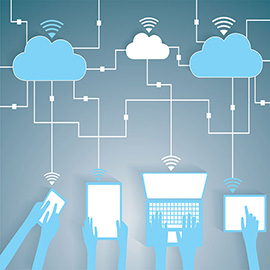 There's work. There's family. There are errands to run, bills to pay ... oh, and don't forget to pick up milk on the way home. Where is the time to fit in a full college course load?
Going back to school can feel like an unattainable goal for people who feel the pressure of obligations and the sense of being pulled in many directions at the same time. But there are many benefits of online learning, the top of which is its flexibility.
That flexibility is one reason a quality, accredited online degree in the field you want can be within reach.
Need more convincing? Here are seven benefits of online learning:
Access classes 24/7: Have 15 minutes while waiting at the DMV? Or a half hour of quiet time before dinner? That's a perfect time to start this week's coursework. With online learning, it doesn't matter when or where students learn. That flexibility also means there's no need to find the time to drive to a college campus, find parking and sit through a 90-minute lecture.
Study Anytime, Anywhere: If you attend a school that lets you access your coursework from any web-enabled device, you can bring your classes with you, whether you're taking your lunch break at work, on vacation, waiting for the kids at baseball practice, or wherever the day takes you.
Learn from a diverse group of instructors and students: Gaining perspective from industry specialists and other students in your field of study from all over the world (and from different roles, professions and backgrounds) rather than just from your hometown can give you valuable insight, resources and experiences you might otherwise miss.
Experience lessons the way you learn best: In a traditional college classroom students are limited to learning the way a professor instructs. But people learn in different ways. Some online schools offer course content in different formats so that students can learn in the way they are most comfortable with, whether that is reading, watching, listening or interacting.
School choice: No longer are students limited to programs offered by the post-secondary education choices in their town or city. With online learning, students can choose to pursue their degree at accredited, high-quality institutions anywhere in the world. That makes it easier to find a degree program that fits your goals - and your life.
Support when you need it: Not attending class in person doesn't mean you can't build relationships with classmates, faculty and others who can support you along your journey. Online professors can still provide one-on-one assistance as needed, and a good online university will offer 24/7 technical support by phone, email or live chat.
Develop real-world skills: Understanding technology, being an expert at online communication and being comfortable with web research are important in almost every workplace today. As an online student, you can learn those skills as you work toward your degree.
Considering pursuing a degree? Download our guide, "Is it the Right Time to Go Back to School?"