How To Get Into College Without Taking the SAT or ACT
How To Get Into College Without Taking the SAT or ACT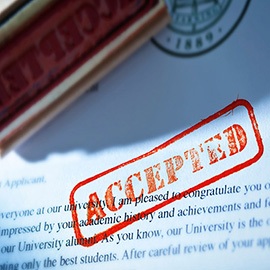 If you're an adult student looking to begin college for the first time or complete your degree, you may be concerned about standardized test requirements. There's a good chance that the idea of walking into a high school gymnasium and sitting with a bunch of teenagers who are also taking the SAT or ACT doesn't sound particularly appealing to you. But it's how to get into college, so you have no choice. Right?
Maybe not.
Standardized testing has been the subject of significant debate in recent years. Though the bulk of the discussion focuses on elementary and secondary exams, both the SAT and the ACT have also come under discussion. Once thought to be a strong predictor of college academic success, recent research has shown that these exams don't necessarily deliver accurate results. As a result, many colleges and universities are revisiting their policies regarding standardized college entrance exams. George Washington University is the latest high-profile school to adopt a test-optional policy, and is now one of about 800 schools in this category, which also includes American InterContinental University (AIU).
The reasons for putting less emphasis on these tests vary. Some schools have found that a test-optional policy generates a wider applicant pool of students who may have strong high school grades and extracurricular activities but weaker SAT/ACT scores. Some schools think a test-optional policy may increase socio-economic and ethnic diversity. Forbes.com recently identified benefits to both schools and students as a result of adopting test-optional policies.
This is great news for adult learners, many of whom are juggling jobs, families and other responsibilities and feel concerned about preparing for and taking standardized tests. If you're exploring the process of how to get into college and are concerned about the potential impact of these exams, read on to learn more about your options for getting into college without them:
Look for test-optional colleges. Fairtest.org maintains a list of schools that don't require the SAT or ACT exam for admission. A test-optional admissions policy means an applicant can choose whether or not to submit scores. Though this list is recent and includes about 800 schools, when you are preparing to go to college, it's important to look carefully at each individual school's requirements before applying.
Tell your story. If you elect not to take or submit the SAT or ACT, it might be worth the time and effort to supplement your application with a letter or essay about yourself and why attending college is important to you. "Non-traditional" students tend to be mature and focused, and admission committees may appreciate learning more about your background. Even if it's not required or requested, it might give you a useful edge.
Examine all the variables. Standardized exams are expensive, and it's not unusual for people to take them more than once. Preparation courses and tutors and books can also cost a lot of money. As an adult student, you're likely thinking about this aspect as you read up on how to get into college. But you need to keep in mind that you may be interested in scholarships and grants which may require standardized test scores, and you'll have to weigh the financial benefits and drawbacks involved.
It's a great time to be a college student. Making the SAT and ACT optional can ease the path to admission for adult students, and online colleges like AIU provide important flexibility as well.
Ready to take the next step ? Learn more about AIU and the university's admissions process.