Leadership vs. Management: What's the Difference?
Leadership vs. Management: What's the Difference?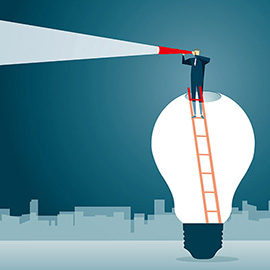 The concepts and practices of leadership vs. management might seem to create a tug-of-war in a variety of contexts, but there is room for both, particularly in the business world. As you'll learn when undertaking a business degree, management and leadership are not mutually exclusive traits, and both have a place in professional settings.
What is a Manager?
Managers are focused primarily on directing others and distributing resources to accomplish certain tasks. Effective managers must have strong administrative abilities, since much of their jobs involve giving instructions to subordinates and reporting results to their own superiors. Establishing processes and standards for the workplace are standard tasks of a manager.
Having a vision is important, but effective managers are able to effectively create a plan for making such a vision into a reality. Independent of a broader plan for completing a project, managers must direct day-to-day activities, constantly reevaluate resources, and anticipate future needs. This is also true of subordinates — a good manager will listen to their subordinates and ensure that they have the tools needed to succeed.
What is a Leader?
While leaders can be managers, they don't necessarily have to be. Leadership is more about ideas and influence than management. Leaders tend to have a strong idea of what they would like to accomplish and a willingness to support their vision both vocally and through action. Their strong views and their dedication tend to draw others into their orbit, giving them influence among their peers in the workplace. Leaders also tend to be innovators, and their ability to think unconventionally can be a boon to a business.
Leadership vs. Management in the Workplace
A simple way of thinking of leadership vs. management in the business world is this: Leaders help create a vision and inspire others to pursue it, while managers develop and execute practical plans to turn that vision into something tangible. A leader may have strong ideas about what a finished product should be; a manager will organize people and resources to make it happen.
Pursuing a management degree can help you acquire a broad understanding of finance, economics, and accounting along with the practical skills that are necessary to thrive in the business world, including the ability to organize personnel and projects as well as anticipate the needs of your subordinates and your company. Effective managers also pay attention to the morale of their teams and devise ways to keep it high.
Ideally, a manager will also be a leader — having a vision along with the means, ability, and influence to execute it can be invaluable to an employer — but it doesn't have to be that way. Effective managers are able to work with leaders — whether they are superiors, subordinates, or equals — for the good of the company and whatever projects they may be pursuing.
When it comes to management vs. leadership, it's not about one trait being better than the other — it's about working together toward a common goal.
Ready to learn more? Explore online business degrees at AIU.