How to Study with Your Family (and as a Family)
How to Study with Your Family (and as a Family)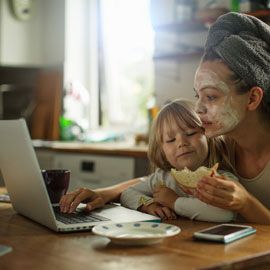 If you're a parent, going back to college while running a household can seem like a continuous juggling act. On the one hand, you have the desire for quality family time, and on the other, you don't want to neglect your studies. While it may seem like you can't have your cake and eat it too, you can have both. You may just have to get creative. It's important to find balance between doing your homework and spending time with your children, so take steps to focus on education as a family—even during the summer or winter breaks.


Tips for Studying as a Family, All Ages


Read together. If you need to crack open your textbooks, make 30 to 60 minutes "Official Family Reading Time" where everyone gathers in the same room and reads their books. If it's during the school year, there should be no shortage of reading material for your children. If your children are on holiday break, visit your local library with them so they can pick out books they haven't read yet. For young children who haven't mastered the art of reading, they can flip through picture books or read their alphabet; it still counts!

Write together. You have a paper to write, but you don't want your children to miss out on family time. Instead of turning them away, ask them to write with you. If they don't have writing homework, get creative! Ask younger children to write a story, full of fun characters and colorful illustrations. When you're done with your homework, ask them to read their story to you. For older children, ask them to journal—with pen and paper to avoid the temptation of surfing the Internet instead. Need a few suggestions for journal topics? Try these: Describe your favorite memory so far this year; describe the perfect date; if you were to write a book, what would the main character be like; etc. Note that a journal can be a very private tool, so unless they offer, don't ask them to share what they wrote.

Schedule family rewards for grades. At the beginning of each quarter, figure out a family activity that everyone will enjoy and kick it up a notch. Maybe that means splurging on the expensive seats in the movie theatre, bowling at the upscale bowling alley or making a reservation at your family's favorite restaurant. Then tell your family, "If I get all A's or B's for my next four classes, I'm going to treat us to X." If your children know they get a reward if Mom or Dad does well in school, they will be less likely to bother you while you're studying. In fact, they may start encouraging you!


Tips for Studying, with Elementary or Preschool Children
Having young children scampering around the home can definitely pose a challenge to fitting in quality study time. If you need time alone to get your schoolwork done, assign them "special tasks" to complete — not cleaning or chores, but something fun. Here are a few ideas to occupy their time that require minimal parental assistance.
Check Box Camera Craft: Using a retired checkbook, paper, and markers, your children can create their own camera and photographs.1 Ask them to go around the house and draw and color in pictures of what they see. What is daddy doing? Where is the dog? That way, your child can share what happened around the house while you were doing your homework.
Pet Rocks: Go with an oldie but a goodie! Gather some rocks from your yard, get markers, googly-eyes, yarn, and glue, and let your child create a community of pet rocks.2 Once the rocks are decorated, have your child hide them around the house. When you're done studying, play a game of "hot and cold" with your child to find them all.

Puzzles: Puzzles are always a great way to pass the time quietly. You can pick some up at your local dollar store if you don't have any on hand. Research suggests that jigsaw puzzles and other shape games help develop children's spatial skills and give the brain a good workout—something video games don't do.3


Tips for Studying, with Junior High or High School Children


If your older children are still eager to spend time with you and haven't gotten "too cool," that's great! Here are a few ideas for you to get in your study time while not excluding them.

Quality time. As our lives get busier, it's important to set aside time for just you and your children. Let them know in advance that you have homework to do, but afterwards, you want to take an hour to just be with them, one-on-one. Let them choose the activity, with the one stipulation that your quality time together has to be phone- and computer-free.

Do homework together. Being able to dedicate time specifically to homework as a family is easier when your children are older; they have more schoolwork to do and they'll need less help. Make a point to do your homework together—aka, not in separate rooms. Turn off the TV, clean off the kitchen table, fill glasses with water, pull out healthy snacks and set up homework stations. It'll help your children feel engaged, knowing that you both have homework to do and do it together.

Ask them to be your teacher. Pull a "Freaky Friday" and switch roles with your children. Tell them they are in charge of making sure you get your homework done: "No TV until you work for an hour." If your course materials fit the mold, ask your children to quiz you on the content or terms. It'll empower your children and reinforce the value of education.

Getting your degree is hard work, with or without a family. If you start feeling the struggles of being a parent and a student, make time to get your family involved. A little work on the front end can help them feel involved your education, understand when you need time alone and maybe even become your biggest cheerleaders!

No matter your degree program or assignment, we have more school and study tips that can assist you– read our College Success blog.
---
1. Osborn, Sherri. "Check Box Camera Craft." Retrieved from http://familycrafts.about.com/od/moretoys/a/checkboxcamera.htm (Visited 11/03/16)
2. Osborn, Sherri. "Crafts for Elementary School Kids." Retrieved from http://familycrafts.about.com/od/toppicks/tp/elementarycraft.04.htm (Visited 11/03/16)
3. Odes, Naomi. "10 Activities To Help Your Toddler Develop Spatial Thinking Skills." Retrieved from https://www.babble.com/toddler/10-activities-to-help-your-toddler-develop-spatial-thinking-skills/ (Visited 11/03/16)