Top Business Organizations for Business Students
Top Business Organizations for Business Students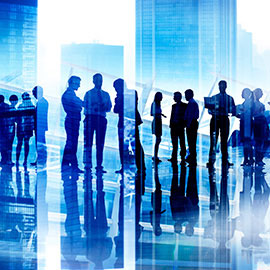 Business organizations provide business students with added education, the latest industry knowledge and trends, legal advocacy and most of all, pave the way to important networking opportunities.
If you're deciding on what organizations to join, you may not know where to start. Joining a professional association with a student chapter or membership can provide you the opportunity to build relationships, gain experience effectively managing an organization and added growth and education in your chosen field.
Whether in marketing, finance or accounting, these top professional organizations are beneficial affiliations to pursue when you're first starting out in your career.
Top Management Organizations
American Management Association (AMA)
If your goal is to work toward a management or executive role, seeking out a well-established organization where you can learn about the latest in management practices is a sound first step. The American Management Association offers student membership benefits such as discounts on conferences and seminars and an array of online trainings.
The World Federation of People Management Association (WFPMA)
Are you pursuing a business degree with a focus on international business? The World Federation of People Management Association is an umbrella organization representing several top people-management organizations from around the world. The WFPMA holds a World Congress every two years to address global people management trends and serve as an international networking event.
Top Marketing Organizations
The American Marketing Association (AMA)
The American Marketing Association (AMA) is a well-known professional organization in the industry. The association offers student membership, allowing you access to resources such as professional development, marketing certifications, e-learning and student competitions. Those benefits are in addition to access to regional AMA conferences on every aspect of marketing. You can find out if your school or university offers a chapter or you can start one yourself.
Business Marketing Association (BMA)
Business-to-business marketing, otherwise known as B2B marketing, is one of the strongest marketing sectors for professionals in the industry. The Business Marketing Association targets B2B marketers, offering regional chapters, trainings and well-attended national marketing conferences.
Top Finance Organizations
American Finance Association (AFA)
Are you interested in knowing more about financial economics? The American Finance Association's Journal of Finance is a mainstay for academic papers and research in finance. The finance association also hosts meetings at universities around the country on topics like "Riding the Bubble with Convex Incentives" and "Does it Pay to Invest in Art?"
As part of this organization, you're privy to its job boards, recruitment opportunities and the opportunity to submit your own paper for publication.
Association for Finance Professionals (AFP)
This organization provides advocacy, certifications, job and recruitment opportunities, and it also organizes an annual conference for professionals worldwide. The AFP is a one-stop association for learning about the latest industry trends and choosing from a wide selection of webinars.
The Association of Accountants and Financial Professionals in Business (IMA)
If you're an accounting or finance major, this association is a good place to meet professionals from around the world via the IMA's forum community, gain professional feedback and access job opportunities through their career services center.
Top Accounting Organizations
American Institute of Certified Public Accountants (AICPA)
You don't have to be a CPA to belong to this association. The AICPA offers a student and non-CPA affiliate membership, AICPA scholarships and career support in specific areas of interest like information management and not-for-profit organizations. The association also offers its members advocacy at the state and federal level.
Top Human Resource Organizations
Society of Human Resource Management (SHRM)
There are over 275,000 Society of Human Resource Management professionals around the world, and an annual student membership is relatively inexpensive. The organization also represents 93 percent of Fortune 500 companies, per its website.
Members have access to compliance information, education, forums, support on legal issues and current HR policy. For networking and growth opportunities, student, national and international conferences are also offered.
Professionals in Human Resources Association (PIHRA)
The Professionals in Human Resources Association collaborates with SHRM for combined membership, and the focus of this association is on staying abreast of the latest trends and policies in the field. Though this professional organization is primarily regional on the West Coast, it provides phone-based HR consulting, advising and HR centers to help you create employee handbooks and job descriptions.
Top Healthcare Management Organizations
The American Association of Healthcare Administrative Management (AAHM)
The American Association of Healthcare Administrative Management organization is one of the only professional healthcare associations that highlights healthcare management. The almost-50-year-old organization places an emphasis on member professional development. The association represents administrative management professionals through "legislative and regulatory monitoring" and works with related organizations to help guide the industry.
Healthcare Administrators Association (HCAA)
You might think healthcare administration is solely comprised of administrative work in hospital or patient facilities. However, if you're interested in pursuing areas of healthcare administration such as auditing, insurance or working with technology organizations, this association's primary mission is to support healthcare administrators in these roles, or "third-party administrators" (TPAs).
They offer job postings, certifications and annual conferences for those in third-party industries. While this organization's membership is more expensive than other associations, particularly for those who don't yet work in the field, it might be worth inquiring whether they provide student discounts and rates.
Finding Additional Opportunities
Remember that employers in key hiring positions may also be affiliated with well-known business organizations. Becoming a member of a professional organization while you're a student shows potential employers your commitment to your field and to excellence in professional development.
Don't stop with this list; do your own exploring to find out about local chapters in your community, on campus and regionally. Part of a well-rounded education includes professional experience and development. Carving out time and resources to put toward this while pursuing your education can help open doors and create better opportunities.
Ready to learn more? Explore online business degree programs at AIU.