MPA vs. MBA: Which Degree is Best for You?
MPA vs. MBA: Which Degree is Best for You?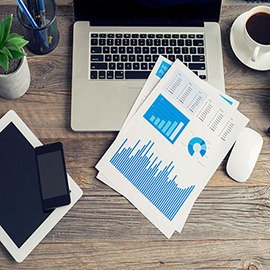 Once you've earned a bachelor's degree in a business-related field, the choice of whether to move on to a master's program is often based on what kind of career path you're ultimately looking to pursue. Master's degrees can sometimes open up additional job opportunities and help with advancement into positions that require higher experience and education levels, but did you know the type of master's degree you obtain can be just as important? For those looking to move into management roles, the choice of an MPA vs. MBA can make a significant difference.
So when it comes to an MPA or MBA, which is better? The answer isn't quite so simple—both degrees can be highly valuable in advancing your career, and which one is right for you depends greatly on the type of organization(s) you're interested in managing.
Master of Business Administration (MBA)
Currently more common than the MPA,1 a Master of Business Administration is designed to prepare students to move into middle-to-upper management positions within various different types of companies. Designed to be versatile enough to apply to a wide range of the private sector, an MBA degree typically provides a strong foundation of basic management skills valued by today's employers. While some MBA programs may offer specializations, the degree is usually applicable for both large and small companies in a number of prominent industries.
Topics that may be covered in an MBA program:
Courses required for an MBA will typically focus on economics, finance, marketing and management. Since students need to develop skills that will help them make efficient use of time and resources in order to impact a company's bottom line, much of an MBA degree will be geared toward ways to most effectively make money and sell products and services in the current economic environment.
An MBA may be right for you if:
You are looking for an advanced position within a corporation or want to manage your own small business.
You enjoy the challenge and competition of helping a company sell more products and services.
You want to help make strategic decisions regarding how a company operates.
You are interested in leading a team or department to reach distinct financial goals.
For those whose ideal career path includes aspirations to eventually reach positions such as department head, COO, or CEO, an MBA is likely to be more applicable than an MPA.
Master of Public Administration (MPA)
Where an MBA prepares graduates for more advanced management roles in businesses and corporations, a Master of Public Administration degree is geared toward those looking to work in the public sector. These programs focus on the inner-workings of government and non-profit organizations, including working with public policy, proposing budgets, and securing public funding for various programs and initiatives. You can often choose an area of specialization within an MPA program catered toward the type of public policy and organizations you're interested in working with.
Another common difference with MPA vs. MBA programs is that MPAs are often situated outside a school's business department, sometimes associated with the law school or political science departments.
Topics that may be covered in an MPA program:
Work toward an MPA degree will typically still include basic management and financing courses, but will also focus more heavily on law, public policy, sociology and government. Classes will cover things like the historic roles and purposes of public institutions, organization and administration theory, and management ethics. MPA programs usually also involve some level of training in writing grant requests and public policy documents.
An MPA may be right for you if:
You want to work in a national, state, or local government office.
You are interested in setting and carrying out public policy.
Your passions lie in working toward social change more than profits and growth.
You are more long-term goal oriented, and don't mark success by distinct, measurable outcomes.
If you're interested in becoming a policy analyst, city manager, or other type of state or county official, an MPA may be the right choice.
Ready to learn more? Explore online MBA degrees at AIU.
---
1. Fortune Magazine. "Why the MBA Has Become the Most Popular Master's Degree in the U.S." on the Internet at https://fortune.com/2014/05/31/mba-popular-masters-degree/ (visited 12/6/15).