Take Our Teaching Styles Quiz: What Type of Teacher Are You?
Take Our Teaching Styles Quiz: What Type of Teacher Are You?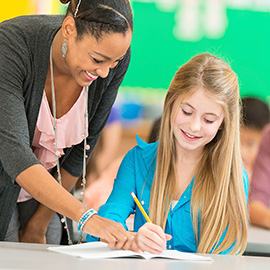 Successful teachers come from all walks of life and bring their own unique teaching styles to their classrooms. Developing and refining one's personal teaching style is an ongoing process. As a teacher, you're constantly learning new strategies while identifying your strengths and philosophy. Throw in a dash of personality, and you've got your own unique approach to teaching and learning.
It's nearly impossible to visit a social media site without encountering a quiz of some kind. What's your spirit animal? Which city should you live in? Which television character is your best friend? Most of these quizzes provide amusing diversions but don't provide anything beyond a moment of fun. But some quizzes can yield useful ideas for further exploration. AIU's What Kind of Teacher Are You? quiz is fast, enjoyable, and identifies five different teaching styles. Though it's not scientific, investing a few minutes might help you discover something about yourself which you can apply in your classroom.
There are five possible outcomes for the quiz. After you invest a few minutes in taking the quiz, return to this page for some additional information about your teaching style.
Result 1: The Cheerleader is an all-around enthusiastic educator, getting involved in extracurricular activities as well as academics. While student achievement is paramount, The Cheerleader believes in encouraging students to be well-rounded and loves watching them shine. Celebrating student success is a key activity for an educator with this style. This article, first of two in a series, shares ideas for how to recognize accomplishments, and why it's important.
Result 2: The Tough-Love Teacher loves to present challenges to his or her students, and values the process as much as the end result. This type of teacher has high expectations and aims to see students pushing themselves to reach new levels of achievement. Raising expectations often leads to better student outcomes, and it's more effective when done thoughtfully and consistently.
Result 3: The Inspirer has a passion for teaching and learning, and strives to be a lifelong learner with high standards. Sharing knowledge with students is how he or she motivates them to reach new heights. There are many other ways to invigorate student learning, and this playlist from TED has several great talks from inspiring teachers.
Result 4: The Unconventional Teacher loves to bring innovation and creativity into the classroom. He or she constantly seeks new ways to help the students master the material, and is good at creating engaging, exciting lessons. The possibilities for unconventional lessons and activities is endless, so there is always new material with which to engage students.
Result 5: The Pal is good at connecting personally with his or her students and using those connections to teach them effectively. This type of teacher keeps up with the students' outside interests, which helps to foster good relationships and a productive learning environment. Building a solid rapport with students is key; here are some research-based ideas.
Developing a teaching style is similar to creating a recipe: there are lots of ingredients and different ways to use them. Though this quiz is no substitute for experience, it can be used as another resource to help you build your personal toolbox of teaching techniques.
Ready to take the next step? Explore online Master of Education programs at AIU.