Types of College Degrees: Which is Right for You?
Types of College Degrees: Which is Right for You?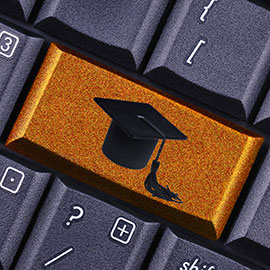 Often we treat "going to college" as a uniform experience with a distinct end point, but in reality there are a wide variety of schools, programs, and types of college degrees one can choose to pursue. The kind of degree program that matches your personal and career goals may be very different from what someone else needs—even someone working in your same industry.
Questions such as what kind of position you're hoping to get with your degree, how long you want to be taking classes, and what you hope to achieve personally from continuing your education can help you start deciding what kind of degree is right for you. We review some of the most common and popular types of college degrees below.
Undergraduate Degrees
Undergraduate degrees are the most common if only because these programs are where you start out in higher education. For many people looking to get the educational basis required for entry-level (and sometimes mid-level) jobs in their industry, an undergraduate degree can be a great place to start.
Associate's Degree – Associate's degrees are typically two-year programs offered by community colleges, technical colleges, and certain traditional 4-year or online institutions. Some choose to pursue their associate's as a stepping stone to moving into a bachelor's program, while some fields, such as certain nursing and technical or computer science positions, may not require any further education. If you're trying to decide between an associate's or a bachelor's degree, keep in mind that you can usually transfer credits from the former into the latter if you choose to continue on in a four-year program.
The most common types of associate's degrees include:
Associate of Arts (AA)
Associate of Science (AS)
Associate of Applied Science (AAS)
Associate of Engineering (AE)
Bachelor's Degree – A bachelor's degree is among the most common goals of students who choose to pursue a degree at either a traditional or online university. Bachelor's degrees often allow for a more well-rounded liberal arts education, making it the commonly preferred choice for those who want to take classes outside their immediate intended industry and career path. While bachelor's degrees are more comprehensive and may offer students additional opportunities to explore new and different subject matter, such as taking an art or literature class as a business major, they also take longer to complete.
The typical types of bachelor's degrees are:
Bachelor of Arts (BA)
Bachelor of Fine Arts (BFA)
Bachelor of Science (BS)
Bachelor of Business Administration (BBA)
Graduate Degrees
Graduate degree programs are designed to prepare students for advanced positions in their respective fields through a highly intensive set of classes and coursework. Those looking to move into higher-level positions and/or earn a degree that demonstrates their expertise or specialization may wish to pursue a work in a graduate program.
Master's Degree – Most commonly an additional two to three years of coursework, master's degrees may vary more significantly than their bachelor-level counterparts. The type of degree program is also important—for example, MFAs will lean more heavily on creative work, whereas MS programs may push students into deeper research positions.
Due in part to its versatility and relevance to many industries and types of companies, the Master of Business Administration (MBA) has become the most commonly conferred master's degree in the U.S., accounting for 25.4% of all master's degrees granted in 2011-2012, the most recent year for which data is available.1 This popularity also is part of what's driving universities to develop different types of MBA programs (such as one-year MBA programs, executive MBAs and others) to better serve the diverse needs of these students.
Among the most common master's degrees are:
Master of Arts (MA)
Master of Fine Arts (MFA)
Master of Science (MS)
Master of Business Administration (MBA)
Master of Education (M.Ed.)
Doctoral Degree – The highest degree one can obtain in any given field, a doctoral degree requires extensive research, typically lasting between four-six years depending on one's field and subject of study, and culminating in a peer-reviewed dissertation. Often a Ph.D. is required for those looking to teach at the university level.
Doctoral degrees usually include Ph.D.s in a particular field or area of study, though professional doctorates like a Doctor of Medicine (MD), Doctor of Education (Ed.D.), Juris Doctor (JD), and Doctor of Nursing Practice (DNP) are available for those seeking advanced professional titles.
Ready to learn more? Explore online degrees at AIU.
1. National Center for Education Statistics. "Bachelor's, master's, and doctor's degrees conferred by postsecondary institutions, by field of study: Selected years, 1970-71 through 2011-12" on the Internet at https://nces.ed.gov/programs/digest/d13/tables/dt13_318.20.asp (visited 1/8/16).