What are the Advantages of a Degree in Business and Technology?
What are the Advantages of a Degree in Business and Technology?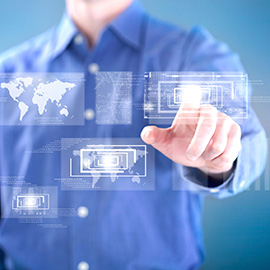 With the increased prevalence of cloud computing, data storage networks, and Internet-enabled technology in our daily lives, modern companies are relying more than ever on employees who have experience with both business and technology skills. The Bureau of Labor Statistics estimates that computer and information technology jobs will grow by 12% from 2014 to 2024 (faster than the national average for other occupations).1 This means that beyond being just an essential employability skill, proficiency with at least basic business technology systems can offer a leg up for current and future job applicants.
While many employees develop their business and technology skills through ongoing work experience, this can take time and may be limited by availability of training and learning opportunities. As a result, those looking to advance or enter the field with a strongly developed skill set may look to a business degree in information technology or technology management.
Why Pursue a Business Technology Degree?
While the areas of focus and coursework may vary depending on the exact degree and institution, most Bachelor of Business Administration (BBA) programs with an emphasis on business technology and management aim to prepare students for the increasing role of technology in the modern workplace. Courses and programs of study revolve around helping students understand the complex ways new and evolving technology may impact business and consumer relationships, marketing efforts, production and distribution practices, internal structure and organization, and other aspects of a company's operations.
While business technology degrees will still cover some straightforward IT skills—like building familiarity with networking technologies, database management, and systems architecture—they also can focus on a broader range of tech-related skills, including:
Remote and Global Communications
Email, video conferences, and webinars have all become common modes of business communication, whether between companies and their consumer base or as tools for bridging geographical gaps between offices in different locations. With the growth of remote workers and global businesses that require communicating with clients or internal teams across multiple countries and time zones, it's especially important for employees to be proficient with a wide range of online communications technologies.
Management Strategies
For those looking to move into a management role, familiarity with IT and project management systems, Internet security, and networking hardware can be an advantage. Managing teams of employees involved in complex processes increasingly requires an understanding of such systems and the ways they affect processes and timelines, available resources, and other capabilities.
Ways Tech Growth and Changes May Affect a Company's Future
With new technologies developing at an accelerating rate, businesses want management-level employees who can identify how and when tech trends might impact their finances, product demand, or production capabilities. Business technology programs help students learn how to analyze how various business functions may be affected or changed in response to new technology.
Using Technology Systems to Improve Efficiency
New systems for managing inventory, production, sales, and internal deliverables present companies with opportunities to improve efficiency and their bottom line. Being able to evaluate and demonstrate the specific ways these types of systems may affect a company's operations is a useful skill for those seeking a management position in the future.
Business Technology Degree Jobs
What kinds of jobs can you pursue with a business technology degree? Because the focus of such programs is on blending both business management and technical skills, the field is fairly open for graduates. They may choose to pursue more tech-focused roles related to IT management or network administration, or they could lean toward the business side and explore project management, analyst or development positions.
Ready to learn more? Explore AIU's online degree programs in technology management.
---
1. Bureau of Labor Statistics, U.S. Department of Labor, Occupational Outlook Handbook, 2016-17 Edition, "Computer and Information Technology Occupations," on the Internet at http://www.bls.gov/ooh/computer-and-information-technology/home.htm (visited February 23, 2016).