Meet AIU BBA Alum Todd Johnson
Meet AIU BBA Alum Todd Johnson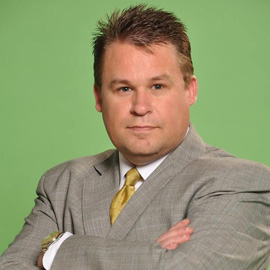 Our #AIUStrong series introduces readers to AIU alumni from various backgrounds, degree programs and career paths. In this edition, we meet Todd Johnson, a police officer who carefully weighed his options when he considered returning to school. After earning his associate's degree at AIU, he pursued the route to becoming a detective and made the decision to return to AIU for his bachelor's degree. Continue reading below to learn how Todd's approach helped him achieve his initial goal.
Meet AIU BBA Alum Todd Johnson
Degrees: Associate of Arts in Business Administration and Bachelor of Business Administration (specialization in Management)
Grad Year: 2003 (AABA), 2014 (BBA)
Occupation: Police Detective, Clayton County Police Department (GA)
What factors did you consider in choosing a degree program?
I evaluated AIU with other college online degree programs based on cost, relevance of course material, class structure and a few other requirements to ensure that my educational experience would not only further my current career path, but add value to myself as an employee to an employer.
I addressed with my advisor the length of time that I had already been out of school and my desire to return and needing possible tutoring or mentorship. My advisor was very understanding and presented solutions to my concerns. There were quality professors teaching each class, and when I needed help, the professors were either a phone call away or an email away. That brought great comfort to me in knowing that all I had to do was reach out to the school for assistance.
Why did you choose AIU to further your education?
AIU understands the commitment that is needed not only from the student's perspective but from the school's perspective. They understand that my success is their success. While many schools in today's economy will advertise they are student-driven, I found through research and talking to my fellow colleagues that many schools today are not willing to go above and beyond to educate the student or position them properly in the workforce community. I found AIU to be focused on each student by maximizing their knowledge and fulfilling their educational goals and dreams.
What was your primary motivation to return to school?
My primary motivation to return to school was to add value to myself as a professional. In the current job market, it can be difficult for an individual without a degree to be successful. Seeking the right degree that will maximize my financial state was the center point for my motivation to return to school.
How has earning your degree impacted you professionally?
My degree has impacted me professionally in many ways. The most important impact has been the financial gain that my bachelor's degree has brought forth after being promoted to the rank of Detective. Secondly, the knowledge and understanding that I gained in the degree program allowed me to become a better manager of myself and individuals. Finally, understanding the impact of my knowledge has generated a greater respect among my colleagues and family.
Encouraged by Todd's story? Meet more alumni on our blog.