American InterContinental University® Named a Top School for Military Students
American InterContinental University® Named a Top School for Military Students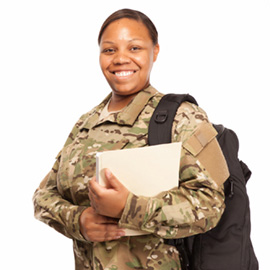 American InterContinental University (AIU) is proud to announce it has been named a Top School in Military Advanced Education & Transition's (MAE&T) Guide to Colleges and Universities for 2017. This is the 10th year in a row that the university has earned this recognition.
"AIU is honored to be recognized once again for our dedication to serving military students, veterans and their families. We are proud of our dedicated support, flexibility and above all, quality education programs that help our community of military students prepare for their next steps," said John Kline, president of AIU.
The MAE&T Guide evaluates more than 600 higher education institutions—including community colleges, state universities, online universities and others—on criteria including military culture, financial assistance, flexibility, general support, online support and on-campus support. It aims to provide a comprehensive research tool for servicemembers, education services officers and transition officers seeking to take their education to the next level.1
AIU's support for military students, veterans and their families spans the educational experience, with a wide range of initiatives including:
Dedicated Military Admissions and Financial Aid Advisors: In addition to a dedicated military admissions team to serve military-affiliated students, AIU's military financial aid advisors are trained specifically in military tuition assistance, MyCAA and VA education benefits to support active duty, veteran, reserves and National Guard students as well as their spouses and dependents.
The MOS Pledge: The MOS Pledge ensures that AIU military students receive the maximum amount of academic credit for their previous military education and training, along with their on-the-job experience, to help them save time and money as they pursue their education. AIU's specially trained prior learning assessment team assesses each applicant's Joint Services Transcript—including their Army or Marine Corps Military Occupational Specialty (MOS), Air Force Specialty Codes (AFSC), or Navy Enlisted Classification (NEC)—to assist in determining the appropriate number of credits the prospective student could receive based on recommendations from the American Council on Education (ACE). To help maximize military students' transfer credits for prior education and work experience, the prior learning assessment team also evaluates prior college coursework, CLEP and DANTES exams, and certifications.
Grants and Tuition Reduction: Active military undergraduate students, including members of the Reserves and National Guard, can receive a 45% tuition grant at AIU Online. Active military graduate students and members of the Reserves and National Guard can receive a 20% tuition grant. AIU also awards grants equal to up to 10% of the cost of tuition for eligible military and veteran spouses.
Military-Supportive Policies: AIU's leave of absence policy allows students to put their education on hold for up to 180 days of deployment per calendar year.
Flexible Schedules and 24/7 Online Classes: The ability to access classes anytime, anywhere Internet access and 24/7 technical support is available is ideal for military students who are traveling, relocating or deployed overseas.
Visit https://www.mae-kmi.com to view MAE&T's 2017 Guide to Colleges & Universities.
Ready to learn more? Explore military student education at AIU Online.
---
1. MAE&T 2017 Survey. Retrieved from http://mae.kmimediagroup.com/about. (Visited 1/2/17)