New Student Checklist: 10 Things to Do Before You Start Class at AIU Online
New Student Checklist: 10 Things to Do Before You Start Class at AIU Online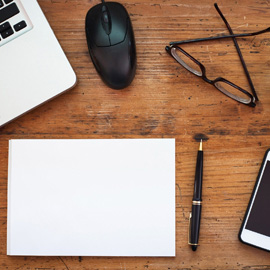 You did it! You took that important step and enrolled in school to continue your education. You're officially a student now, and each day, you are one step closer to earning your degree.
You can already cross "Return to School" off your to-do list. However, to start your degree program on a strong note, here are 10 important things to tackle before you enter class:
Fill out the FAFSA. First things first! The FAFSA is the crucial first step in starting your education if you plan on using federal aid to help pay for school. Completing the Free Application for Student Aid (FAFSA) determines your eligibility for federal grants and loans. So set some time aside to complete your FAFSA as soon as possible. Want help? Read our guide on how to fill out the FAFSA. Once your FAFSA is done, work with your financial aid advisor to make sure all other required financial aid documents are complete.
Prepare your workspace. Attending school online allows you the flexibility of studying wherever and whenever you want, but it's still a good idea to have a space at home dedicated to you and your schoolwork. Avoid communal areas where you can be more easily distracted. Choose an isolated room in your home, stock it with notebooks and pens, print out motivational quotes to hang on the walls and get ready to study! (A "Do Not Disturb" sign for the door may also come in handy as well).
Participate in orientation & complete orientation assignments. Think of orientation as a dry run to prepare you to start your actual classes! You can explore class resources and experience three different types of assignments that you will be exposed to throughout your studies: intellipath®, Discussion Board, and the Individual Project. Remember, posting to the discussion board during orientation is required of all students prior to starting class, and practicing these assignments in an environment without grades can help put you at ease before you start the real thing. Orientation opens two weeks before the start of class to give you time to acclimate; you can access it via the AIU Virtual Campus.
Attend Open House. Open House is a drop-in, online event conducted in the Learning Center that answers your questions and acclimates you to AIU. You can meet your instructors, socialize with your fellow students, and even seek inspiration from alumni. You get a tour of the classroom, learn about AIU's support services, and get more information about your chosen degree program. It's a no-brainer to attend! So mark your calendar—Open House typically takes place two and a half weeks before classes start!
Download the mobile app. Are you often on the go? Don't worry! The AIU mobile app allows you to take your classroom with you no matter where you are. Download the app from Google Play or the iTunes Store so you can check your assignments, participate in live chats, email faculty members, review discussion boards, track your academic progress and more. (Learn more about AIU Mobile in this quick video.) Outside of the app, you can also add your student email to your mobile device.
Submit your official transcripts for review. Why should all the work you've already done be wasted? Our transfer-friendly policies are designed to help you maximize the academic credit you may receive from your previous school or military experience. Our Prior Learning Assessment Department can evaluate your official college and/or military transcripts to see how much academic credit you may be eligible to receive. The more credit you receive, the more time and money you can save on your degree.
Install Microsoft Office on your computer. All enrolled students receive a complimentary subscription to Office 365 (O365), including a downloadable version of Microsoft Office 2016 for their studies! Download it before classes start, as you'll need those programs in your classes. Once your student email account is set up, O365 is available to you. Just login to the O365 homepage at https://portal.office.com; your username is your campus email address and your password is the same as the password you have for your Virtual Campus account.
Take advantage of early access. Two days before the start of every class, all students can get a preview of their classes for that session. This allows you the opportunity to review the course descriptions as well as the list of your upcoming assignments. While you aren't able to submit any schoolwork or post on the discussion board during this time, you can start working on your assignments offline to get ahead.
Talk to your family and friends about your commitment, plans and goals. AIU's staff and faculty will be here to support you throughout your entire educational journey. However, it's important that your close family and friends also know about your decision to return to school. Let them know why your degree is important to you. Looping them in before you start class will help them be there for you along the way as well as if you hit any obstacles.
Ask questions. Before you start your degree program, your admissions advisor is your go-to person. He or she can answer any questions you have and help you prepare to start class on the right foot. No matter what, do not be afraid to ask questions! The staff and faculty are here to help you from Day 1 all the way to Graduation. Once you start classes, your student services advisor will be your primary point-of-contact and will take you through the remainder of your degree program. Never hesitate to reach out by phone or email for assistance, guidance or just to share your latest success.
Last but not least, take time to pat yourself on the back! You took a brave step and turned "thinking about returning to school" into a reality. Celebrate this time in your life and congratulate yourself each time you cross an item off your to-do list. Being proactive before classes start can help you build a strong foundation for the rest of your educational journey, so get started today!
Which of these steps will you complete first? Share with us in the comments.
Interested in more study tips? Read our College Success blog posts.