Falling behind in a course? Here's how to catch up
Falling behind in a course? Here's how to catch up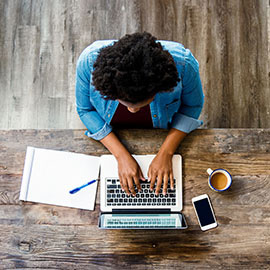 Life happens, and now you're behind on your coursework and need to catch up. This kind of situation happens to the best of us. Yet there's a strategy for getting back on track, say Brigitte Powell and Tom Gilchrist, both UNIV103 instructors at AIU.
Because they teach one of the first courses many AIU students take, Powell and Gilchrist come across students every session who struggle with how to stay caught up in their work. After all, many of their students are in their first course after years or even decades out of school; it's understandable that they might need a refresher on how to balance time on schoolwork with everything else. The good news is that there is a path to getting – and staying – on track.
1. Strive for success, but don't let bumps in the road get to you.
The first thing to do is to take a step back for a few minutes and reflect on where you are, and more importantly, why you're here.
"We have got to boost self-confidence, and not let it get to us. At the same time, recall the passion for why we're doing this, says Powell. "It's the wish, the dream, the hope that comes into play. It's really about recalling a goal that hasn't come to fruition yet, but as we work towards the goal, it'll get closer."
You may be struggling, but that bump in the road doesn't define you. It's merely an obstacle that you can overcome, and more importantly, learn from. Remember to also keep a mental log of your achievements, big and small, and use those to draw confidence when you need it.
2. Reach out to your instructor or advisor - always.
Gilchrist says that reaching out to your instructor is the single best action you can take when you're falling behind.
"A student reaching out to their instructor, or their advisor, asking what they can do, is the number one best thing they can do," says Gilchrist. "Just them taking that step? They're on the road to success." Your instructor and advisor aren't there to judge you, but to help you figure out what you need to do to make your time as effective and successful as possible.
3. Craft your master plan.
After you take a step back to account for your situation and consult with your instructor on the resources available to you, build your catch-up plan. Don't try to do it all in one day – spread your catch-up work over a series of days in order to make it doable with your current schedule and commitments. "Break it up, because if you try to crunch and do it all in one day, you can become overwhelmed and burnt out, so by the time Tuesday comes around, everything's done, and you'll see your grade might start inching back up," says Powell.
4. Stay current while you catch up.
Don't forget: it's easy to simply put your head down, grind through your backlog of work, and end up still behind by not getting to your current assignments. That's why Powell suggests creating a plan to spread the work out over a few days or so: "Sometimes what I'll see is that students try to catch up, but they don't do the current work, and it becomes a domino effect you don't want," says Powell. "So take a weekend, an extra day when you can, or a few hours, and get the job done. Just refocus for a little bit."
It'll be hard work for a few hours or days, but it'll be worth the peace of mind in the end.
Once you catch up, use your master plan to schedule out time for yourself to stay current. You don't have to do it alone, either. There are many resources at your disposal to help you strive for your best, from the library to Smarthinking tutors to your fellow students.
Above all, don't forget that your instructors and advisors are all ears: "I ask for help all the time. Never be shy. We are here for you," says Powell. "Your success is our success."
Get more advice on navigating college life on the AIU blog.