Gift of Education: AIU Alumnus Erica Watkins
Gift of Education: AIU Alumnus Erica Watkins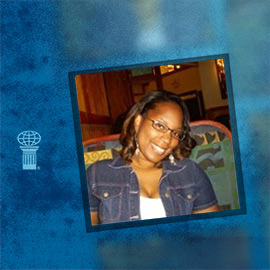 Erica Watkins had a good job and good pay. But, once her first child arrived, she decided she needed more than a job she was content with. Erica wanted to launch a career where each job, experience and educational milestone contributed to her professional advancement. As a new mother with a new perspective, Erica enrolled at AIU and started her Associates of Arts in Business Administration. She took this step not only for herself, but to set a positive example for her child.
Erica jumped right into the Bachelor of Business Administration program specializing in Project Management after completing her associate level courses at the University. She enjoyed the learning platform and the online classes fit with her lifestyle as a working mom with a long commute. The benefits of her hard work were also materializing in different ways. "My education helped me gain valuable experience; it has helped me enhance my speech, my confidence, and my knowledge in various areas," Erica stated. Her hard earned degrees were also advancing her career just as Erica envisioned. She shared, "Shortly after my bachelor's degree in Project Management, about three months to be exact. I was promoted to a Sr. Project Manager. It has been infinity and beyond since then."
Many take a break and many stop after dedicating years to their educational studies. Erica took a different path. She was determined to charge forward. She pursed her Masters of Business Administration at her new second home – AIU. Her career continued to be positively impacted by her educational pursuits. "A little ways down the line, I landed my first six figure job. Thanks to my experience, degree, and perseverance."
As an AIU alumnus, Erica also inspired others to pursue their educational goals at AIU. She opened the door of opportunity to four very important people in her life. "This was very important to me because I value education and have seen how it is a very important factor in our future to come." Erica believes in leading by example and that investing in her future was one of the best decisions she made in her lifetime. "I took the steps and leap of faith to become a part of AIU because I had a vision and belief that not only can I make a difference in my life and children's future, but to also be a positive influence and leader to others."
Everyone's educational journey starts somewhere. Erica's began with a growing family as her point of motivation. Since then, she achieved three degrees, continuous career success and became the role model she intended to for her children. To add on to her list of accomplishments, Erica spread the gift of education. With certainty Erica will leave her mark wherever she's headed next.
The Alumni Association was honored to award an Alumni Referral Scholarship in Erica's name in December 2015. Erica is a pillar in our alumni community and we are proud that she is a part of the AIU family. Congratulations on your success Erica!