How to Use the AIU Library
How to Use the AIU Library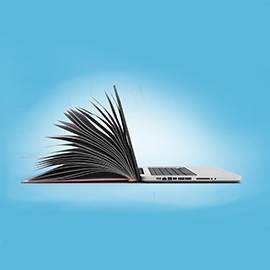 It's a refrain you'll likely hear often throughout your AIU journey: "Make sure to use the library to assist on your assignments!" Yet the prospect of leveraging a 100% online library might give pause to students who, like many, aren't familiar with how to navigate one.
We've got you covered. When it comes down to it, AIU's online library isn't so different from others you may have visited. Getting the information you need is all about knowing what to look for – and where to find it.
From searching for the perfect study to add to your research paper to learning how to decipher fake news, the AIU Library contains a wealth of information. Use these three tips to help you unlock it.
1. Learn how to use keywords
One of the common problems people run into when they do any kind of online research is that they use regular, everyday sentences in the search bar. In some cases, that's more or less okay: Google, for example, often strips out words like "a," "the," and "and" when compiling its results – that way, any given search doesn't offer up results that include hundreds of millions of options to sort through.
The AIU Library search engine, however, uses every word typed into the search bar to find results. This means that when searching, it's best to use only the words that must be included in your results – use three or four words at most, to prevent limiting the results too much. For example, if you're doing a paper about student dependency on electronic devices and the ill effects it could have, don't just search for "student dependency on electronic devices and the ill effects it could have." Reduce the full topic down to a shorter search that still means the same thing – in this case, for example, you could try a search for "smartphone addiction" to get better, more refined results.
2. Filter correctly – and take note of the best sources
Once you've gotten a good set of results from your keyword search, it's time to use the filters to narrow your results down. The first thing you can do to sift through all the information is to filter out by date. When using data, the most recent results are usually the most useful and up to date. For instance, if you've come across a research study from the 1980s, you'll probably want to try to find some more recent information.
Don't forget: make a note of the sources and journals you use the most for your current courses. That way, next time you need to do research for a particular course, you can go directly to your list of best sources in the AIU Library to quickly find what you need.
3. Listen to the LibraryFYI podcast
The Library team works hard to help inform students on all questions related to using the Library. They've even created a podcast, LibraryFYI, inspired by student feedback asking for short, audio lessons. The podcast focuses on topics designed to complement your course material and assignments, and host and AIU Librarian Zaray Buenrostro guides listeners through topics such as plagiarism (what it is and how to avoid it), how to identify "fake news" (which has become a common topic of debate and confusion) and Boolean keyword searches (in which Buenrostro covers using effective keyword searches to find what you're looking for on a search engine like Google).
If you'd like to hear about a particular topic in a future episode, LibraryFYI is open to suggestions: just go to the Library homepage for contact information to share your ideas.
This just scratches the surface of all the ways in which you can use the AIU Library to help you find the information you want when you need it. To explore all the resources available, try setting up a library tour through the AIU Library website!
Looking for more advice while attending AIU? Find more tips click here.