4 Steps to Start Preparing Your Research Paper
4 Steps to Start Preparing Your Research Paper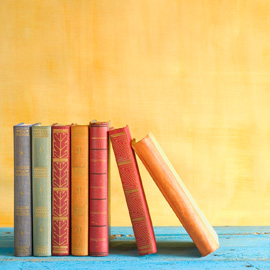 Are you prepared to write your first research paper at AIU? Be proactive by following these four steps to prepare a high-quality and comprehensive paper.
Writing research papers can be a daunting task. It's not a skill that comes easily to most, but it is a critical part of pursuing higher education. Fortunately, learning this skill is a task that you don't have to face without help.
Here are four steps to walk you through how to start your research paper—from determining the sources you'll need to use the AIU resources available to you.
Wondering how to jump in? Just start with Step 1!
Step 1: Acknowledge your inner researcher.
If you've ever bought a car or found a babysitter, you have done research. You determined what information you needed and where you could find it, sifted through and selected certain information, and then used what you found to make an informed decision.
College-level research is very similar. First you should determine what type of information you need, then evaluate the sources to select which ones work best for your audience, purpose and format. In today's digital age, information is everywhere, so you'll need to be savvy about the resources you use.
Step 2: Think ahead—what sources will you need?
Evaluate your assignment details. Is your instructor asking for your opinion, or for researched facts? Does the assignment description ask you to cite your sources? These are all clues telling you what type of research you should conduct. There are several types of sources you can use.
Type of Sources:
Primary sources: These are very valuable to you as a student. They include interviews with experts, research articles that present studies conducted by the authors themselves, conference proceedings and videos.
Scholarly sources: These include journals of primary articles written for scholars, for scholarly use typically found in library collections. These are very high quality sources, but it may take some practice reading and understanding them.
Secondary sources: These include books or overview articles written for the general public. They can either direct you to primary sources or give you helpful information such as statistics or quotes.
Popular sources: Pass by a newsstand and you'll see newspapers and magazines like Newsweek or Time. But be wary of these sources: While easier to read and understand, they can get the story wrong, be biased, or oversimplify a topic.
Once you have an idea of what sources you'll need for your assignment, you're ready to head to your best friend when it comes to research: the AIU Library.
Step 3: Visit the AIU Library.
The AIU Library is the go-to hub of information for AIU students.
The Library is home to articles, books and web sites already carefully selected for your use. It also offers research guides and tutorials, APA resources, and classes to help you learn how to use the Library to your benefit. You will gain access to materials that you'd never find through Google; and even better, everything in the Library is available to you at no additional cost!
So if you need to do research for an assignment or cite a credible source, bypass Google and go straight to AIU's Virtual Campus (VC).
How to find the Library: Log into the Virtual Campus, then click "Library" at the top.
In the Library, you can find:
30 full-text electronic research databases, housing hundreds of thousands of articles from a variety of different scholarly journals;
Thousands of full text books;
A large collection of reference resources, such as dictionaries and encyclopedias;
Course research guides and web resources categorized by subject or program.
Take a look around; you're sure to find the resources you need for your assignment. If you're not one for exploring on your own, the librarians also offer tours to show students all the features and benefits of the Library.
Step 4: Contact a librarian.
When it comes to proper research, AIU librarians are a vital contact. They are available to provide research assistance 7 days a week to help you find the resources and information you need. By phone, email or IM, they can help you through the "research" part of your assignments.
Librarians also hold library tours and chats, which include:
Overviews of resources that are beneficial to students in specific programs;
Course-specific library chats to help with specific assignments;
General chats focused on evaluating resources. The Library FYI (Find Your Information) Series is held at 11 a.m. CT on Thursdays in Weeks 1, 2, 3 and 4.
Librarians also create print and video tutorials to help you locate the information and resources you need for your assignments. Equally important, they can help you develop key words or search terms to help you learn to find those resources on your own.
With these four steps under your belt, you're ready to jump into your research paper. Above all, remember that if you don't know where to start your research or you need help finding information, simply ask a librarian. They can help guide you to the resources you need.
AIU Librarians are available:
By phone (877-221-5800, ext. 15721) and email (Librarian@aiuniv.edu): 9 am CT – 8 pm CT Monday through Wednesday; 9 am CT – 6 pm CT Thursday through Sunday.
By Instant Messaging (IM): 1 pm CT – 8 pm CT Monday through Wednesday.
Best of success with your paper!
Need more assistance with upcoming class projects? You can find more student success advice and study tips on our College Success blog.