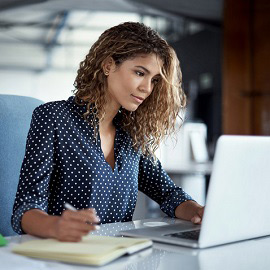 With the evolving demands of today's workforce, more and more working professionals are going back to school to pursue a college degree. The number of non-traditional students (over age 25) going back to college has been on the rise in the last several decades, with an increase of over 28% from 2000 to 2015.1
There are a number of reasons why you might choose to get your degree after spending some time working in your field. From the enhanced flexibility of part-time and online degrees to the benefits a few years of professional involvement can bring to the classroom, going back to school can be a great way to broaden your knowledge and experience.
This process doesn't need to be intimidating either. Below, we review how to go back to school as a professional working full-time, including some key advantages and things to remember as you enroll in college classes.
Make Use of Real-World Work Experience
Going back to school after working for several years in your field can have some advantages. You may not know exactly what you want out of your career until you've spent some time learning about the different paths and positions open to you. Gaining some of this experience may offer you more perspective on what specifically you want for your future, which can, in turn, put you in a better position to decide on a major and/or degree specialization that will truly match your unique goals and interests.
Professional students may also bring a distinct set of knowledge and experiences to the classroom. Understanding precisely how specific lessons and course materials may relate to your particular professional path can be beneficial. This knowledge may help you better select courses with a direct impact on your goals.
If you're trying to figure out how to go back to school without taking time away from your current full-time job, you may also look into colleges and universities that offer prior learning credits for qualifying work experience. For example, students can see if previous work experience qualifies for course credit by submitting a work portfolio that demonstrates mastery of specific program objectives and learning outcomes. Sometimes prior learning credits can be a great way to save money and time if you're planning on going back to college while maintaining your full-time job.
Consider Flexible Online Degree Programs
Figuring out how to go back to school involves managing your schedule and time commitment around your existing work and family responsibilities. For many working professionals, flexible online degrees can be a way to balance school and work more efficiently. Convenient online learning platforms like mobile apps also enable you to check assignments, communicate with faculty, and even squeeze in a few minutes of studying during unexpected downtime or on the go.
Because online classes can be worked through at your own pace, you can designate specific study times that fit your busy schedule. You're also able to change up your plan week-to-week if you need to pick up the kids from school or take on additional responsibilities at work. This added flexibility can be helpful if you need to work full-time while going back to school to complete your degree.
How to Balance Your Time Between Work and School
Going back to college while working full-time means you'll need to be very efficient with when and how you study. While online classes can help add some convenience and flexibility, you'll also need to consciously consider adjusting your daily routine, study habits, and the way you plan your week.
Below are some ways to help keep your work, school and personal responsibilities balanced:
Set Aside Specific Times/Days for Schoolwork
This one may seem obvious, but especially considering the flexibility of online courses, it's essential to plan out your study times in advance. Based on your work schedule and any regular family responsibilities, when can you reliably sit down to work without interruptions? Depending on your schedule and how you work, you may block out an hour per night after the kids are asleep, or it may work better to schedule a few more extended sessions 2-3 days per week.
Create a Study Plan
Once you've identified the days and times you'll dedicate to schoolwork, plan out each week's tasks in advance. Take a few minutes to look through the course materials, readings, and assignments, and assign each out to a specific day so you can track your progress. If you know you'll have additional work or family responsibilities coming up, you can include these in your study plan as well to make sure you're still setting aside time for that week's classes.
Find Quiet, Dedicated Spaces for Studying
One thing that's key to studying efficiently is making sure your workspace is free of distractions. If you know you'll be distracted by family, friends, or work tasks at home, then try to find a convenient local coffee shop or library you know will be open during the times you've set aside for studying each week.
Set Realistic Goals
As exciting as it is to go back to school, there can also be a genuine risk of burnout if you're not careful about your work/school/life balance. Spend some time realistically assessing how much time you can truly devote to classes each week before you decide on a specific course load. Remember, it's better to take a bit longer earning your degree than to overload yourself before you're able to finish.
Give Yourself Structured Breaks and Relaxation Time
When you're busy focusing on balancing your professional responsibilities and schoolwork it can be easy to forget that you need to leave some time for yourself as well. Once you've created a realistic study plan and weekly schedule, make sure you also leave some time to spend with family and friends or even just some solo relaxation time to recharge.
Know When and How to Ask for Help
Pursuing your degree while working full-time isn't easy, and it's important to have a reliable support system in place to help you through the process. In addition to telling your family and friends, remember to talk to your employer about your decision to go back to school. This is important first and foremost so that they understand you'll be taking on additional stress and responsibilities outside of work, but they may also be willing to work with you to help you balance your current responsibilities with your coursework.
You should also become familiar with any support services your college or university offers. Get to know your advisors and instructors, and don't be afraid of reaching out for help when you need. If your institution has a Career Services Department, stop in and familiarize yourself with all the support services they offer (even if you don't think you need them just yet). Remember too that your fellow students can be great resources when you're struggling with workload or particular course materials, and it can be helpful to build connections, or even form virtual study groups, with some peers in your program.
Know Your Financial Aid Options
Going back to college can also pose some stressful financial questions, so it's important to know what kind of aid is available to you. In addition to filling out the FAFSA, you should look into any grants or scholarships for which you may qualify. Look specifically for aid options that are tailored to your current situation as a student. For example, if there are professional or need-based grants for which you qualify, scholarships for first-generation college students, or aid programs with which your current employer is affiliated.
Whether you pursue a degree with an online college or go back to school with a traditional on-campus university, it can be a rewarding experience that can potentially benefit your future.
---
1. "Digest of Education Statistics." National Center for Educational Statistics (NCES). Retrieved from: https://nces.ed.gov/programs/digest/d16/tables/dt16_303.40.asp?current=yes (Visited 11/14/17).