Going Back to School at 40
Going Back to School at 40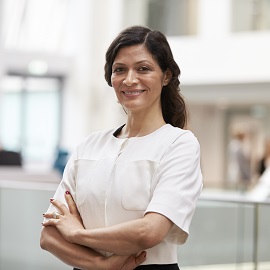 The traditional image of a college student is often someone in their early 20s going into a university right out of high school. However, nontraditional students (those age 25 and older) made up almost 41% of college campus attendance in 2015.1
While going back to school at 40 may present its own set of challenges, pursuing a degree is still an attainable goal. Many of the benefits of a college degree can be realized at any age or professional level, and there may even be some advantages to pursuing your degree after spending some time getting experience in your field.
Benefits of Going Back to School at 40
There is a wide range of possible reasons for going back to college at 40. Some people may find that they've reached the limits of their current career path and can't continue to move forward without a degree. You may also have noticed that after working in your field for some time, you've finally discovered a career path you're truly passionate about. In these cases, going back to school may be helpful to make this type of significant career move. Better yet, you'll be able to pursue your specific degree with the confidence that what you study will be directly applicable to your long-term goals.
Even without being prompted by a specific career move, going back to school at 40 may have benefits in the workplace. Having a higher education experience has been associated with job satisfaction and a sense of being on the right path in one's career. According to a study conducted by Pew Research, respondents aged 25-32 with at least a bachelor's degree reported higher job satisfaction with their current position. Additionally, survey participants with a bachelor's degree or higher were more likely to feel like their current positions were on a career-oriented track.2
Going back to college at 40 may provide an opportunity to pursue educational interests you never had the chance to before. Whether it's due to some extra time now that the kids are grown or the ability to take classes on your own schedule, you can go back to school to pursue your degree.
What to Expect When Returning to College
Going back to school at 40 may be a different experience than you're used to, even if you attended a college or university previously. It may be worth spending some time preparing yourself for the unique challenges and rewards of life as a working student, especially if you also have family obligations.
Below are some of the things to consider when preparing for what it may be like to return to college:
You may need to readjust your work-life balance.
If you've been working full-time for a while now, you've probably figured out how to balance your professional and personal obligations. You may even have a weekly routine or specific strategies for restoring this balance when things get busy at work. Keep in mind that once you add classes, study time, and homework, you may need to adjust your schedule to keep everything on track. While you may have more responsibilities to juggle than you would as a student coming right out of high school, you also likely have more developed time management skills from years of professional experience, so plan on putting them to use.
Be ready to feel a little out of place at first.
Even though the nontraditional student population in colleges is on the rise, you may still find that most of your classmates are significantly younger.1 While this generational gap may be something you're anxious about—especially if you're used to most of your professional peers being around similar ages—remember that other students are coming into college with their own goals and concerns as well. Just because you're at different stages in your lives doesn't mean you can't form meaningful, supportive relationships with your classmates.
Remember to draw on your work and life experience.
Being able to bring years of professional experience and life lessons into the classroom is actually a tremendous asset. Not only do you have the advantage of being able to apply knowledge gained from courses directly to your current job and understanding of the field, but you can also provide a unique, valuable perspective in class discussions and group projects. Reminding yourself that your time away can actually work in your favor is a good way to stay positive and motivated as you're adjusting to life as a student again.
Make your family your study support group.
One of the challenges of going back to college after 40 is that you may have additional family responsibilities than younger 20-somethings. However, there's no reason you can't share some of your student experience with your family, especially if you have kids who are currently in school. You may even schedule study time as a family activity to create a supportive, encouraging environment.
Remain focused on your end goals.
Sometimes going back to school can seem like a step backward, especially when you're working through lower-level courses and general education requirements. Keep in mind the reasons you went back to get your degree in the first place, and remember that each course is a small step toward that goal. You may also try to think about specific or unexpected ways the things you're studying in your classes may apply or relate to your future career.
Consider Online Classes
The convenience and flexibility of online degrees may create additional opportunities for students going back to school after 40. New educational technology like adaptive learning platforms mean that course materials are tailored to your specific knowledge and experience level. This may be especially useful for students with many years of work experience that may overlap with material covered in introductory lessons, and it might allow you to jump ahead to the information that's new to you.
The ability to work through course materials in your own time and on your own schedule is also helpful when trying to balance a full-time job and family life. This added flexibility might be an advantage for those times when work picks up or you have several looming project deadlines, since it's easier to reschedule your study time for the week than it is to miss a class.
Mobile apps can also enable you to work on the go or during small periods of downtime throughout the day. This makes online classes ideal for busy working professionals who can't always schedule the same amount of time to set aside for studying each week. It also helps to be able to make the most of your limited free time when you're unable to give up your current full-time responsibilities to attend classes.
Be Sure to Leverage Prior Work Experience
Students going back to school at 40 may be able to take advantage of some distinct opportunities. Years of professional experience at one or more jobs may have equipped you with a unique perspective and insight into the workplace that those coming into college right out of high-school aren't likely to have. Here are some tips on how to make previous job experience work to your benefit once you start taking classes:
Apply lessons and class materials to your own work experience.
It's important to situate everything you learn through classes, homework or group projects within your current workplace and job responsibilities. Many younger students who are attending college without having worked a full-time job may only be able to apply what they learn hypothetically, relying on their ability to recall a lot of lessons later once they get into the job market. For students currently working a full-time job, being able to see immediately and directly how lessons and skills covered in classes can be applied to your current job can be a real advantage.
Know what specific job skills you need to develop to meet your goals.
If you're returning to school after working for many years, you likely have more specific professional goals that you hope your degree and coursework can help you attain. While it's important to be open to all the information and insights your courses provide, it can be helpful to focus on the specific skills you need to develop within your field. Use this advanced understanding of the skills and knowledge you need in your career to your advantage, and allow this to direct your sense of prioritizing what you spend the most time studying.
Look into getting credit for qualifying work experience.
Investigate whether the college or university you'll be attending offers prior-learning credits or any comparable system to get course credit for qualifying work experience. Depending on your degree and specialization, it's possible that your previous work experience may have helped develop certain introductory skills and knowledge that overlap with what's covered in some lower-level courses. If you're able to leverage this qualifying prior experience to jump ahead a few courses in your program of study, it can help put you that much closer to your long-term professional and educational goals.
View Your Life Experience as an Asset
Going back to school after 40 brings with it a wide range of life experience you can use to help you adjust to your new role as a student. Take advantage of the time management skills you've developed juggling work and family responsibilities over the past years. New and first-time students recently out of high school may have a harder time struggling to balance newfound freedom with multiple school deadlines and work responsibilities. However, you can use the scheduling and organizational skills that already work for you when deciding how to balance work, school, and family life.
Learning as a Nontraditional Student
One of the biggest things to get used to when going back to school is that classroom learning may be very different from the kind of on-the-job training you've received. Try to view the time you set aside for studying as an advantage—for example, you may not get time at work for learning a new task or skill. You might be expected to put in the extra effort on your own time.
It might also seem strange to collaborate with other students at first, especially if you're working in a virtual classroom online. Try to see this as valuable experience communicating remotely with others, and look for what their unique perspectives on a subject have to offer. Just as you can bring relevant work and life experience into course discussions and group projects, being able to encounter so many different and new perspectives may benefit you as you move forward in your education.
---
1. National Center for Educational Statistics. Digest of Education Statistics. "Table 303.40. Total fall enrollment in degree-granting postsecondary institutions, by attendance status, sex, and age: Selected years, 1970 through 2026." Retrieved from: https://nces.ed.gov/programs/digest/d16/tables/dt16_303.40.asp?current=yes (Visited 11/14/17).
2. Pew Research Center. "The Rising Cost of Not Going to College" Retrieved from: http://www.pewsocialtrends.org/2014/02/11/the-rising-cost-of-not-going-to-college/ (Visited 11/15/17).