Alumni Profile: Angelia Williams
Alumni Profile: Angelia Williams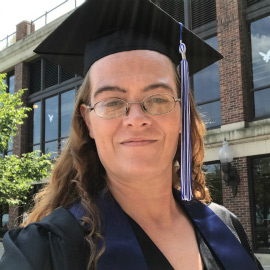 If life is about facing obstacles and overcoming them, American InterContinental University (AIU) Online Alumna Angelia Williams is the walking representation that no challenge can hold you back if you remain focused.
While pursuing her Bachelor of Science in Criminal Justice degree with a specialization in Forensic Science, Angelia's personal life was a terrifying game of Dominoes. Horror after horror cascaded down upon her. Her uncle was murdered. Her grandparents and great grandmother passed away. Her sister and brother-in-law were killed instantly when a tornado threw their car into a tree. Her nephew and niece in that same car passed away after being put on life support. Her son continually battled health issues. Her daughter was suicidal. Angelia herself went through nine surgeries within seven months for kidney stones.
And she still got her degree.
Cop and investigative television shows may have planted the seed in her mind of a career in criminal justice, but she brought that idea to life when her uncle was murdered.
"Three months before I lost my Grandma, they closed [my uncle's murder] case. They couldn't find any leads. My grandma went to the grave not knowing how or why her son was murdered. I didn't want any family to go through what mine was going through," Angelia said. "A conversation I had with my grandma after they closed the case is what pushed me to get my degree. My grandma told me she knew how stubborn I was and how I wouldn't give up. She said I was capable of changing the world. I've always been a fighter."
It was those words of inspiration that would continually replay in Angelia's mind as obstacle after obstacle could've derailed her from her education. "Once I set my mind on something, I don't give up. With everything else going on, I still kept my focus. I knew I came too far to go back."
This focus led her to be the first child, grandchild, and great grandchild on her father's side to graduate college. "I got a lot of support from people who knew I could do it."
Her biggest cheerleaders were her son and her daughter. "My ten-year-old son is nosy. So when I started school, he wanted to know the whys, whens and hows. They would sit next to me as I did my schoolwork – one on each side," she said. "I got to do my schoolwork and spend time with my kids."
Working alongside her children is something that a brick-and-mortar school couldn't do for her. "I tried going to a community college near home, but I just couldn't do it with work and kids. I wasn't able to focus on school. I was searching through online schools one day and AIU popped up. AIU fit around my schedule with work and kids."
Today, Angelia not only has her bachelor's degree, but she is an Alumni Mentor. Alumni Mentors provide guidance to new students in need of extra support and motivation. Angelia's currently on her fifth mentee. "If I overcame everything that came my way and if I could help just one person change their life, it would be a job well done," she said.
When her mentees face challenges, she tells them, "Don't look at the storm. Look past the storm. There'll be sunshine peeking through. And when you see the sunshine, you know the storm is almost over."
Recently, Angelia has interviewed for her dream job – a role with the FBI. "I'm one day closer to helping somebody else. I don't know who I may come in contact with, but it always helps when someone has been in your shoes," she said. "I just want to help others."