10 Ways to Build Confidence and Work Towards Success
10 Ways to Build Confidence and Work Towards Success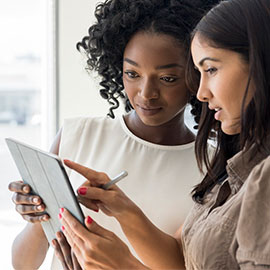 As you pursue your degree and assess your educational goals, think about your level of confidence – the belief in your ability to succeed. Are there areas of your life, either professional, educational, or personal, where you struggle? How might a lack of confidence affect your progress?
Consider how your self-esteem can strengthen your ability to embrace opportunities and meet goals or hinder your success. Try these 10 ways to build your confidence and achieve success in school or in everyday life:
Think positive.


When you think negatively, stop and evaluate what is causing those feelings. Not everything is easy, but you can't give up before you even begin. Tell yourself, "Yes, I can do this!" instead of thinking "This situation is hopeless." Also, focus on your accomplishments and not your failures. We are our biggest critics. So, learning how to face negative emotions can help develop positive self-appraisals and quiet self-criticism.1

Take action.


Accept the challenges when you are presented with opportunities. Don't worry about making mistakes or you lack the skills to complete the tasks. Develop a plan, ask questions, and get the job done. Doing so can build your confidence and may even urge you to achieve more!2

Acknowledge your success.


Experiencing success is essential to building confidence. Identify your accomplishments, whether they are big or small.3 Start with daily goals. As you meet these goals, encourage yourself to achieve weekly goals, and so on. Also, document your progress.3 A visual aid can help you stay focused and will strengthen your confidence. Examples may include completing coursework and achieving course credits. Balancing a career, education, and family life are also valuable accomplishments to recognize and document.

Take care of yourself.


Feeling good about yourself boosts confidence.4 You can cultivate this with exercise, eating a well-balanced diet, and getting enough sleep. Also, looking confident can produce confidence. Dress the part. Consider the saying, "dress for success." For instance, clothes can help give you the confidence to confront a challenge, flourish in an interview, or present a new idea to a team.

Avoid social media comparisons.


Comparing yourself to others can lower your self-esteem and crush your confidence.5 Yet it's tempting to do when social media platforms, such as Facebook, allow us to peer into the lives of friends, family, and acquaintances. Portraying success and happiness through words and pictures is easy. Still, what you read and see may not be real.

Confront your anxieties.


Identify your stressors.1 What causes you to feel insecure? Pinpoint the areas where you lack confidence.5 For example, do you fear public speaking, confrontation, or failure? When you feel anxious, ask yourself questions to determine what you can do. Can you change the situation or is it out of your control? When you ask these questions and evaluate the problem, you can better decide what you can and can't change or improve. But remember, some things are out of our control. Recognizing this can help you move forward.

Limit the "Debbie Downers" in your life.


If there's someone in your life who makes you feel inferior or puts you down, confront him or her about it. Stand up for yourself. If nothing changes, then it may be best to avoid that person and remove him or her from your social circle. Surround yourself with positive, supportive people.2, 3

Pretend.


According to Amy Cuddy, a social psychologist, "body language has the power to influence life's biggest moments."6 Changes in body language can increase confidence and self-esteem. For example, you can adjust your body to sit or stand with confidence. Also, smile. Acting with confidence can boost your self-esteem and encourage positive thinking.2, 6

Identify positive role models.


As you strive to move up in your career, take a step back and recognize those who have succeeded before you. Build relationships with those people – the individuals whom you admire, respect, and want to be like. These are people who are authentic and will challenge you. Connect with these people, either in person or online. Ask for their advice and learn from their experiences. When you surround yourself with positive, successful people, your confidence to reach your goals may increase.1

Do what you love.


Sometimes, we have to do things we despise, be it a work project, course assignment, or even conversing with someone we dislike. But balancing these things with stuff we love can help support our positive emotions and allow us to handle negativity better. Make time to engage in activities you enjoy.3
As you face obstacles in your studies or your life, stop and assess how you can overcome come them. Remember, obstacles are not brick walls. Believe in yourself and your abilities!
---
1. "4 Keys to Building Your Confidence." SUCCESS. Retrieved from: https://www.success.com/4-keys-to-building-your-confidence/ (1/16/2019).
2. "7 Tips To Gain The Confidence You Need To Succeed." Forbes. Retrieve from: https://www.forbes.com/sites/womensmedia/2016/07/26/increasing-your-confidence-is-your-key-to-success/#48dd2371a393 (1/16/2019).
3. "10 Ways To Build Confidence. Forbes. Retrieved from: https://www.forbes.com/sites/francesbridges/2017/07/21/10-ways-to-build-confidence/#448cd99b3c59 (1/16/2019)
4. "10 Things You Can Do to Boost Self-Confidence." Entrepreneur. Retrieved from: https://www.entrepreneur.com/article/281874 (1/16/2019).
5. "7 Keys to Increasing Your Self-Esteem Today!" Psychology Today. Retrieved from: https://www.psychologytoday.com/us/blog/communication-success/201501/7-keys-increasing-your-self-esteem-today (1/16/2019).
6. "Practice Confidence Body Language with Power Posing. SUCCESS. Retrieved from: https://www.success.com/practice-confident-body-language-with-power-posing/ (11/12/2018).